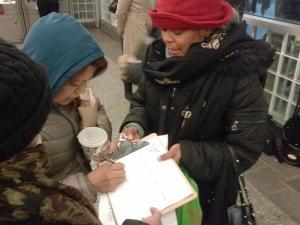 These days, the liberal activists collecting signatures and knocking on doors aren't rallying against the mayor; they're working for him.
Newly-minted Mayor Bill de Blasio this morning began the next phase of his push to raise taxes to fund universal pre-K, unleashing a "grassroots and online campaign" dubbed "UPKNYC" to build momentum for and pressure lawmakers in Albany to pass his signature campaign proposal.
"Hundreds of UPKNYC activists are at subway stops in all five boroughs this morning, handing out literature and signing up supporters, while dozens of organizations emailed hundreds of thousands of New Yorkers, urging them to join the campaign," according to a press release sent out this morning. In addition, activists will be "talking to New Yorkers at their doors, at house parties and at town halls throughout the City." Later they plan to lobby lawmakers directly.
"We've heard from New Yorkers, and more than 70% support Mayor de Blasio's plan to tax the wealthiest among us to fund truly universal pre-k and after-school programs for all middle school students," said the group's organizing director, Stephanie Yazgi, referring to a poll released yesterday. "Now these activists are taking it to the streets, to their neighbors' doors, and to their elected officials, to say – we need your support to pass this plan in Albany."
Mr. de Blasio's organizing demonstrates a mayoral approach in sharp contrast with his predecessor, Michael Bloomberg, who often traveled to Albany to make his case, but never organized activist or labor unions in this kind of campaign-style PR blitz.
Gov. Andrew Cuomo has endorsed the idea of universal pre-K, but has sounded reticent to a pass a tax hike in an election year, focusing instead on tax breaks across the state.