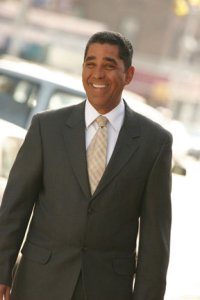 State Senator Adriano Espaillat has hired a prominent Democratic fund-raising firm–the latest sign the uptown lawmaker is serious about trying to unseat Congressman Charlie Rangel again.
The firm, Bedford Grove, will assist Mr. Espaillat in building a national fund-raising network for a likely bid against Mr. Rangel, a source close to Mr. Espaillat told Politicker. The firm began working with Mr. Espaillat earlier this month.
This will be the second time that Mr. Espaillat has tried to challenge the 22-term congressman, who narrowly eked out a win two years ago in a redrawn district that now includes heavily Latino areas in Manhattan and the Bronx. Though he has not formerly declared his candidacy, Mr. Espaillat is quietly laying the groundwork for a second run, sources say, and could announce his bid as soon as next month.
"Last time, in 2012, [Espaillat] was an insurgent and no one thought he had a real chance. A lot of institutional money was not remotely accessible," said the source, explaining why Mr. Espaillat had hired Bedford Grove. Two years ago, he did not hire a fund-raising firm. "It wouldn't have mattered having these people the last go around because their donors don't like to donate to losers. Now, they think he can win." 
Bedford Grove has consulted on several winning congressional races, though they have also
worked with
some big-name losing candidates, including Nassau County District Attorney Kathleen Rice, who ran for attorney general, and Basil Smikle, a state senate candidate. Their firm's leadership team includes former Public Advocate Betsy Gotbaum.
"Espaillat is a rising star in Upper Manhattan and the Bronx, and we are thrilled to join his team," Ms. Gotbaum said.
Mr. Espaillat could also be aided this time by a third candidate, Mike Walrond, who formally launched his bid last night. Mr. Walrond, a reverend who is a member of Al Sharpton's National Action Network, is expected to eat into Mr. Rangel's Harlem base–perhaps giving Mr. Espaillat a leg up.