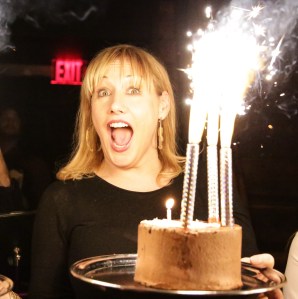 "This is one of my pimps."
That's we thought nightlife queen Amy Sacco had said as she stepped up to the microphone yesterday evening for a bit of karaoke, pointing to the man by her side.
Then she eased into an impassioned rendition of "Midnight Train to Georgia," done famously by Gladys Knight and the Pips, and it was clear we'd misheard her.
Though it wouldn't have been surprising if the party had taken a wild turn. The new year has barely begun, but the birthday party Ms. Sacco held at her chic, downtown nightclub last night had the anticipatory feel of an end-of-year bash—from the large sparkling candles atop the cake to the live band on hand to back up any and all who wished to go before the room for a chance at karaoke.
Ms. Sacco celebrated her birthday in a private party, as she had the previous year, with three friends—Jill Demling, Karen Mulligan and Lisa Benson. Attendees crowded into the lower room of the club, whose walls are decorated with palm trees. A massive, elegant chandelier hangs from the ceiling.
Notable guests included the actor Dean Winters, the fashion designer Richard Chai and the pop-jazz trumpeter Chris Botti.
At about midnight, after a few hours of cavorting near the bar, we knocked over a flute of prosecco, the bubbly liquid seeping into our shoe. That's when we left, but the accident felt appropriately New Year's Eve.