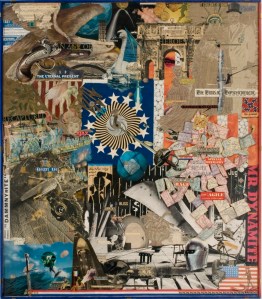 The curator Walter Hopps once said that, if you really wanted to do a show about any era in art, you need to hang work by about 600 artists, though most of the time we get the same six names. "An Opening of the Field" is a refreshing exception, doing just what its title promises. It zeros in on about 30 artists—most not widely known—who surrounded the collage phenomenon known as Jess (he gave up his birth name, Burgess Collins, in 1948, after an apocalyptic dream left him convinced that his life would be better spent as an artist than as a scientist on the Manhattan Project) and his poet and artist partner Robert Duncan in the Bay Area from 1950, when they met at one of Duncan's readings, to the poet's death in 1988. In the intervening four decades, the two men ran a gallery, taught classes and fomented a scene.
Organizers Michael Duncan, Christopher Wagstaff  and William Breazeale have dug up treasures. Beyond Jess' uniformly intricate, witty collages (a circa 1956 beauty called Eros teems with a tangle of bare-chested men), there's a bounty of Duncan's lesser-known wax and crayon works, vibrant, swirling numbers that look to Miró in their abstract, roving shapes and Picasso, quite explicitly, in their manifold representation styles, which rhyme nicely with impressive paintings—fields of Matisse-y color with barely there figures—from the 1940s by Virginia Admiral, the mother of Robert De Niro. A meaty abstraction with fudge-thick brushstrokes from Robert Bladen? Yes, please. I'd take two or three more of those. Creepy, depressed fields of gray, white and black by Edward Corbett? Great in small doses. Nemi Frost's spooky portraits of friends from the scene? Stunning. I could go on.
Jess-inspired collagists never quite muster his sense of composition, nor his humor, but there is plenty of accomplished work in that vein, from people like Duncan poetry student Helen Adam (Perhaps No One Will Notice Them, from circa 1957–59, is referring to those huge black bats that are hiding in plain sight against the bodies of two gown-bedecked women) and Ernesto Edwards, whose amalgams of things like South Asian statuary, dolphins and seals, are charming kitsch.
What emerges is a portrait of a time when poets and painters and collagists were competing with each other creatively, making things happen. It's a story that no New York museum is currently telling and one that has the potential to be deeply influential on young artists today (in fact, it was an artist who emailed me to encourage me to go see the show). They were jumping disciplines and collaborating on plays, concerts and poetry books (spend some time with the vitrines), just as artists are doing today, riding an invigorating, ramshackle group energy that is encapsulated in a 1960 abstraction, a dazzle of Twombly-esque scrawls on white, by Tom Field that was eventually named Kerouac Painting, because the eponymous writer picked up a pen and scrawled a little sketch in the lower-right corner. It's an artwork and an artifact of a now-vanished time brilliantly brought back, at least for a moment, into view.
(Through March 29, 2014)