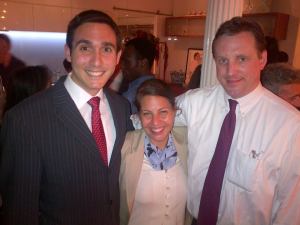 Assemblyman Micah Kellner, battling sexual harassment allegations, appears to have a new opponent for his Upper East Side seat.
Business executive Gus Christensen said today he is "considering" a run for office and released a statement slamming Mr. Kellner. Sources say Mr. Christensen, who recently hired Red Horse Strategies to represent him, is likely to take the plunge.
"Why should taxpayers keep paying Mr. Kellner's salary, benefits and per diems when he is clearly unable to work effectively on behalf of his constituents?" Mr. Christensen asked in a statement to Politicker. "This situation highlights some of the reasons why I am considering leaving a long and successful career in business to run for public office."
"The people of the East Side and Roosevelt Island simply deserve better representation than Micah Kellner," he added.
Mr. Kellner has been the subject of controversy since this summer, when sexual harassment allegations emerged as he was running for the City Council. Mr. Kellner eventually lost that race to now-Councilman Ben Kallos but did not have to give up his assembly seat in the bid. 
Earlier this week, Mr. Kellner was stripped of his committee chairmanship after an Assembly investigation found him guilty of violating the Assembly's anti-sexual harassment rules. Mr. Kellner, who has maintained his innocence, is appealing the ruling and says the investigation was flawed and did not provide him due process.
Mr. Christensen, who has long been active in local Democratic politics, is the managing director of Evercore, an investment bank, and his financial ties may make him a strong fund-raiser, sources say.
Two candidates, David Menegon and Ed Hartzog, have already declared their intentions to run and others are rumored to be entering the fray.
"It's obvious that Micah's weakened and there won't be a better moment to challenge him. But it's more than that. Unlike a lot of other pols who have faced scandals and gotten through them, he's burned all his bridges," said one Upper East Side Democratic operative.
Mr. Kellner did not immediately return a request for comment.