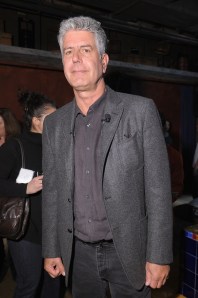 Fans of bazaars, open-air stalls, dai pai dong, the smell of roasting meat in the air, or foodie gossip, get ready to have your day made: Anthony Bourdain, the chef/author/publisher/TV host/Personality has revealed his intentions to open a large-scale food market in New York with Stephen Werther, owner of the clothing store WiNK and co-founder of the Bleeker Street Arts Club.

Though there's no date or location for the project yet–The Post is guessing 3 World Trade Center or Hudson Yards–the foodie paradise will possibly be named "Anthony Bourdain World Market," and will "introduce Americans to Singapore-style street food," as well as give young chefs who aren't on TV a place to show off their skills in public.
In an email to Eater, Mr. Bourdain confirmed:
I am indeed working on this project—carefully assembling a dream list of chefs, operators, street food and hawker legends from around the world—in hopes of bringing them together in one New York City space. As the greatest city in the world, I've long felt that we should have the kind of delicious, diverse food centers that Singapore ( for instance) enjoys. And, in fact, it is my hope that an important component of this project will be representatives of Straits hawker masters. My likes are pretty well known: dai pai dong in Hong Kong, Boqueria in Spain, hawker centers in Singapore, street tostadas in Ensenada. To the extent that I can help bring those things home to New York, along with a truly interesting collection of home grown innovators, I will be very, very pleased. If nothing else, I hope to soon be able to enjoy a really good Chicken Rice in NYC.
We're imaging it as a combination of Chelsea Market and Mott Street in the middle of July. Can't wait.
Mr. Werther told The Post of plans to hold several pop-up events before the opening that would showcase various the international delicacies that could be found in the market.