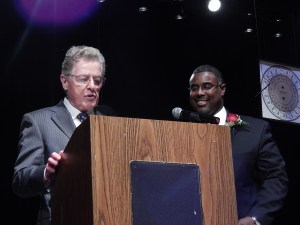 EAST ORANGE – If the late David Lean had born witness to an East Orange Reorganization meeting, the director with a propensity for seizing hold of epic subjects would likely have found inspiration to craft another cinematic masterpiece.
This time it was Mayor Lester Taylor playing the role of T.E. Lawrence, buoyed by an all-star cast including former Gov. James Florio, U.S. Rep. Donald Payne, Jr. (D-10), Speaker Sheila Oliver (D-34), state Sen. Nia Gill (D-34), Essex County Democratic Chairman Leroy Jones, Essex County Executive Joe DiVincenzo, Senate President Steve Sweeney (D-3), Jersey City Mayor Steve Fulop, former East Orange Mayor Bob Bowser, and Assemblyman Tom Giblin (D-34).
"My God is an awesome God," Taylor exulted upon being sworn in by his political mentor, Florio, whose law firm employs the new mayor.
The mayor's family sat onstage with the full cast spilling around the edges and the newly sworn-in city council also looking in, among them former Oliver chief-of-staff Chris James, now a full-fledged councilman serving the 1st Ward.
In between soliloquies, monologues and encounters heavily laden with symbolism, multiple musical offerings featured everything from a child protégé with the microphone to a scheduled harpist. Clocked at three and a half plus hours, the swearing-in of Taylor to the Office of Mayor might have included a samurai sword demonstration and not diminished the grand spirit of the affair.
This is East Orange, where the principals pride themselves on government tradition and local historic context. The event took on the added significance of a transition to new leadership after the independent Bowser's 16 years as mayor and a restoration to establishment authority.
If turbulence abounds in the county's biggest town, East Orange offers Democratic Party organizational stability.
Taylor was ecstatic among allies.
"I still have to pinch myself to convince myself it's true," said the mayor, who weathered a tough fight with local icon and the anti-establishment Bowser to eventually prevail.
Not a homegrown East Orange resident, Taylor grew up in Long Branch, and leaned heavily on the politically super-charged Jones to get elected mayor. The new mayor paid special tribute to longtime party trooper Jones, as did most everyone who stood onstage this afternoon.
"The architect," Giblin said of the man who grew up in East Orange politicking before his tenth birthday and served in the General Assembly before going into behind-the-scenes mode.
Florio too received an old warrior's attentiveness from his 39-year-old law firm star turned local leader as Taylor eagerly paid homage. "You have to set the bar so high, I hope I can match it," the new mayor told his boss.
Broadening the dimensions of political theater, Payne lingered on Bowser's service, noting that the departing mayor successfully battled down crime in the city. "This is a building upon, not a turn around," said the congressman. "All of us have benefited from your leadership."
The late Phil Thigpen, chairman of the Essex County Democratic Organization and a proud son of East Orange, also received numerous acknowledgements.
But as candidates in Newark – among them North Ward Councilman Anibal Ramos – who attended today in support of Taylor – battle on a political terrain where the end is unknown – the organizational dominance and import of East Orange were much in evidence with the governmental ascension of Taylor.
The local chairman of the East Orange Democratic Committee, Jones helped elect Taylor to defeat his longtime nemesis Bowser, then succeeded Thigpen as party chair of the county, accepting the reward due the strongest party leader of all the towns in Essex and the one in possession of the most recent clear recent victory.
Backed by DiVincenzo, Ramos now faces a balkanized Newark in the 2014 mayor's race and the argument from his closest allies that the post-Cory Booker political environment does not give him the best chance to win.
Democratic allies of the powerful DiVincenzo worry about a Ras Baraka victory.
Bothered by Bowser, their horror is trading Bowser in East Orange for the far more unpredictable Baraka in Newark.
That uncertainty in neighboring Newark made the East Orange epic optics today that much more important for Jones and DiVincenzo, who could burnish with Taylor a new ally of early promise in the county's second biggest city.
Oliver, who served four years as Speaker of the Assembly, may have left her office before South Jersey's Sweeney and fallen victim to the statewide balances of power shifting, but today reaffirmed her place in the local political constellation of her highly politically relevant hometown.