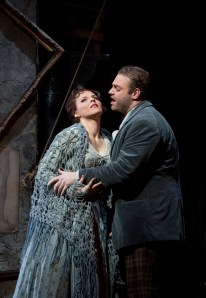 Tenor roles in opera are the hardest to cast, conventional wisdom informs us: The voice type is rare to start with, the training of the instrument is difficult and delicate, and even the best-prepared high male voices have a way of falling apart under stress.
But, as so often, it turns out conventional wisdom doesn't seem to apply to the Metropolitan Opera, where last week it was the leading tenors who sang with such power and beauty they redeemed two Puccini standards from mediocrity.
The bigger triumph belonged to Bryan Hymel, returning to the Met for what might be called his "official" debut as Pinkerton in Madama Butterfly. (Last season, on just four days' notice, he substituted for another tenor here in the murderously difficult role of Aeneas in Les Troyens, singing four performances including an HD telecast during what should have been a brief vacation between European engagements.)
Pinkerton is not a part calculated to win an audience's love. It's an unsympathetic character, a shallow American naval officer in 1900 Japan who enters into a form of marriage with a 15-year-old ex-geisha. He regards the arrangement as little more than long-term prostitution, not realizing that the idealistic girl has actually fallen in love with him.
Between the first act, ending in an ecstatic love duet, and Pinkerton's return in the third act three years later, the tenor is offstage for almost two hours while the soprano steadfastly professes her faith in her missing husband and sings one of the best-known of all opera arias, "Un bel di vedremo." Late in the evening, he has one last chance to shine, a short but tuneful cry of regret, "Addio fiorito asil."
And yet Mr. Hymel walked away with the show. His unorthodox, muscular voice commanded attention from the first conversational phrases, gaining authority as the music became more ardent.  Every one of the part's many high B-flats landed squarely on pitch, and the high C at the end of the first act was more than just a great top note: It sounded like the triumphant cry of a conqueror. At the end of his "Addio" aria, the audience didn't even wait for the music to finish before roaring its approval.
In contrast to all this vocal testosterone, Mr. Hymel acted the character with unusual sensitivity and the kind of delicacy some physically imposing, confident men seem to come by naturally. When the child bride lets slip her age in the first act, Pinkerton repeats the words "Quindici anni!" (15 years!) Most tenors smirk at this point, or laugh or boast, if they bother to act at all; Mr. Hymel took a small step back and lowered his eyes in momentary confusion and shame.
A little later, during the love duet, Pinkerton calls his bride "bambola," i.e., "baby doll," which usually sounds patronizing. In this performance, the sturdily built Mr. Hymel grabbed the tiny soprano and lifted her over his head, and the line instantly made sense.
True, a better Butterfly might have given Mr. Hymel more of a run for his money. In her Met debut, South African soprano Amanda Echalaz sounded rough and grainy, with a wide vibrato juddering past the pitch.
It's a big sound, meaty in the middle voice and with easy access to chest tones for a number of low-lying phrases most interpreters of the role find tricky. But the part goes high, too, and Ms. Echalaz seemed to have particular trouble keeping the tone centered on the all-important top B-flat. When "Un bel di" wins only a pattering of applause, the Butterfly is doing something wrong.
And yet, she acts the role with sensitivity and restraint, lending tragic dignity to even the weepiest scenes. She's a good fit for Anthony Minghella's spare, dreamy 2006 production. Now directed by Carolyn Choa, it distills the opera's local color down to a glistening lacquered ramp and constantly shifting white shoji screens.
Otherwise, circumstances were not ideal for Ms. Echalaz's debut: The scheduled conductor, Philippe Auguin, called in sick, so Marco Armiliato jetted in from Chicago, where he is leading another production of Madama Butterfly. His unrehearsed conducting at the Met was improvisational but only in the best sense of the word: flexible, spontaneous and unfailingly responsive to the singers' phrasing.
Baritone Scott Hendricks sounded underpowered in his debut as the American consul Sharpless, easily overshadowed by Elizabeth DeShong as the servant Suzuki, her honeyed mezzo unfurling with majestic authority. Making a big impression in a tiny role was Alexey Lavrov, a baritone in the Met's Lindemann Young Artist Development Program, who brought a rich voice and magnetic presence to the often-overlooked Prince Yamadori.
Franco Zeffirelli's production of La Bohème remains an audience favorite—the house on the night of Jan. 14 was packed—but this umpteenth revival of the 1981 staging hasn't much to offer beyond the elegantly sung Rodolfo of Joseph Calleja.
Though Mr. Calleja and Mr. Hymel share a fullback's physique and a megawatt smile, they couldn't be more different as singers. Mr. Calleja's heady voice, with its flickering vibrato, is pure poetry—just right for the aspiring poet Rodolfo, the hero of this love story set among Parisian bohemians. So effortless is his vocalism that it's easy to overlook the sophistication of his singing. Seamless legato phrases dance with his virtuoso use of rubato, miniscule shifts of tempo that add a dash of individuality to Puccini's luscious melodies.  Even when he sings as familiar a piece as "Che gelida manina," you stop and take notice, because suddenly the piece sounds new, impulsive and uncontrived.
What keeps the performance from getting sickly sweet is the tenor's emphasis on Rodolfo's jealousy and hair-trigger tempo. When Mimi flirts mildly with a couple of students on the street, the Met staging calls for Rodolfo only to pull her gently away. Instead, Mr. Calleja charges across the stage and shoves the guys roughly away, spoiling for a fight.
This macho take on the character gets out of hand only once, when Rodolfo finally convinces Mimi to spend the evening with him at the end of the first act. As she left the stage, Mr. Calleja turned to the audience, fist-pumped and hissed, "Yes!" It got a laugh, but it was a cheap one.
That Mimi was Maija Kovalevska, a soprano the Met keeps trying to make happen, though even as pleasant a performance as this one makes you wonder why. She has an attractive, rather prim lyric voice, and she looks appropriately pretty and frail as the tubercular heroine. But I find her singing stiff and prosaic, and she overdoes the character's coughing, as if Mimi's core health problem was Histrionic Personality Disorder.
Beyond Christian Van Horn's lithe lyric bass as Colline, this was generally a tedious evening, with lurching, inexact conducting from Stefano Ranzani—even the clinking glasses during an offstage drinking song were off the beat—and a lot of loud, characterless singing from the supporting cast. This late in the game, reviewing the Zeffirelli staging makes about as much sense as critiquing the Chrysler Building. Still: Is it too much to ask that the holiday merrymakers in act two try to act a little less like weary commuters waiting for an F train?