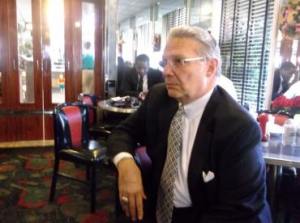 LYNDHURST – Bergen Democratic Chairman Lou Stellato said that Bergen County Surrogate Michael Dressler will inform him next week whether or not he will seek the Democratic nomination for County Executive in the November 2014 election.
"I'm going to have an answer from Mr. Dressler next week," Stellato said on Friday. "He's been interested in running for a while – he's just got to put all of his ducks in a row."
Dressler, who was first elected Surrogate in 1996, has a solid record of service and a compelling backstory. Dressler overcame disability after he suffered permanent paralysis as a result of a teenage accident to become mayor of his hometown of Cresskill. He has continued his rise in Bergen County politics ever since, winning re-election in 2001, 2006 and 2011.
Dressler is now at the top of the list of possible Democratic candidates lining up to take on Republican incumbent County Executive Kathleen Donovan. Other Bergen boldface names reportedly in the mix include County Clerk John Hogan, Freeholder Tracy Silna Zur and state Assemblywoman Valerie Vainieri Huttle (D-37). Former Freeholder Chairman Jim Carroll of Demarest declared his candidacy in May. The party will hold its county convention in March.
PolitickerNJ.com specifically asked Stellato where the potential candidacies of Huttle and Zur fit into the Bergen Democrats' equation if Dressler decides not to run. Stellato seemed to be still focused on a potential Dressler candidacy.
"If Dressler decides to go, my understanding is that [Huttle and Zur] will get on the Dressler train," Stellato said.
Phone calls to Dressler, Huttle and Zur seeking comment were not immediately returned.
Many political observers believe that despite the personal popularity of Donovan, she could be beatable in 2014. Donovan has struggled with the freeholder board over plans to merge the Bergen County Police Department and the county's Sheriff"s Office. Donovan is opposed to the plan, while the majority of the freeholder board, now controlled by the Democrats by a 5-2 veto-proof margin, supports the move. During her battles with the freeholder board, Donovan has used her veto power more than 25 times since taking office in January 2011.
The public problems of Alan Marcus, the consultant who managed Donovan's victorious campaign in 2010, and the positioning of U.S. Sen. Cory Booker, who was raised in Bergen and is perhaps the most popular Democrat in the state, at the top of the Democratic ticket in 2014 are other serious challenges for Donovan.
The ongoing Bridgegate scandal, which originated at the Fort Lee end of the George Washington Bridge, has also cast a shadow over Bergen, creating uncertainty regarding the situation's effect on the county executive's race.
"Timing being what it is, this could be perfect timing," Stellato said.