Building toward a 2016 presidential run with the ragged industrial trail of New Jersey as its staging area, Governor Chris Christie's 2013 reelection campaign impressed everyone with its discipline.
Democratic State Senator Barbara Buono may have shown some guts—or a proclivity for kamikaze maneuvers—in announcing her challenge of the popular Republican. But Mr. Christie got the game.
Chris Christie first entered the public consciousness in December 2001 when President George W. Bush nominated him to be New Jersey's only U.S. attorney. A big man with a big voice and big confidence and big opinions, Mr. Christie brushed aside concerns that, as someone who'd never prosecuted a case, his main qualification for the job was his acumen as a fundraiser for the Bush campaign. (President Bush, a devoted nicknamer, bestowed upon Mr. Christie the moniker Big Boy.)  It didn't matter. Mr. Christie was soon racking up convictions—and stirring fear in the hearts of both evildoers and those who had had the misfortune of being on the wrong side of the bombastic prosecutor.
To New Jersey political obsessives, this was an M.O. that had already been on display. Mr. Christie began his political career as a Morris County freeholder (that's New Jersey-ese for "county commissioner") and just two months into his term decided to challenge the incumbent Republican assemblyman in a primary. It was regarded as a particularly audacious move, and Mr. Christie came in fourth out of four candidates. Then, in 1997, having challenged a popular GOP assemblyman and lost, he found himself primaried for his freeholder reelect. He lost that, too, in a spectacularly nasty contest that resulted in lawsuits and a legal settlement. Mr. Christie's willingness to battle—to sue, bully, intimidate and stand up to—those who stood between him and his goals had been established.
But by the 2013 race for governor, this was all long forgotten, washed away beneath an undefeated record as U.S. attorney, a clean first gubernatorial victory over free-spending Jon Corzine, a well-regarded first term and a universally lauded response to Hurricane Sandy. Mr. Christie's opponent, Ms. Buono, took heart in New Jersey tallying more than 700,000 additional registered Democrats than Republicans. But with his job approval numbers already buoyed by his actions after Sandy and independent voters enamored of his "get the hell off the beach" habit of telling it like it is, Mr. Christie and his crack political staff leveraged his appeal to the mayors and the bosses who didn't want to get stuck backing a loser.
Still, Democratic Party zest for Mr. Christie went deeper than that, to something more elemental.
As the governor's sleek political operation moved around the state, securing political endorsements from Dems, labor and Latinos and removing any possibility for Ms. Buono to gain traction with her same-party peers, inevitably, the question arose about fear.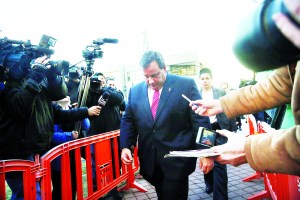 The fear factor.
Given this governor's penchant for payback, Democrats worried about supporting anyone opposing Mr. Christie, who threw people behind bars for a living as U.S. attorney prior to becoming the state's chief executive.
Whether he served as U.S. attorney or governor, in the Christie era, the same enduring question permeated the halls of government: Who will be next? Who will be the next mayor or councilmember, assemblyperson, senator or political boss to surface in handcuffs?
As U.S. attorney, Mr. Christie won high marks for his parade of political corruption prosecutions. His office convicted some 130 public officials, including huge names like Hudson County Executive Robert Janiszewski (bribery), State Senator and former Newark Democratic Mayor Sharpe James (fraud)and State Senator Wayne Bryant (a little of both).
Other details painted a less favorable picture.
Mr. Christie pioneered the tactic of deferred prosecution agreements (DPAs), in which the government would agree not to prosecute a corporation if the target agrees to follow conditions the government sets, ranging from paying a fine to changing personnel to adopting new practices. To ensure that these conditions were met, Mr. Christie's office recommended the appointment of "outside monitors" who would be paid handsomely for their service. Those facing the business end of unlimited subpoena power saw these DPAs as a shakedown. Whatever one's point of view one thing was certain: Chris Christie understood leverage and exercised it.
In 2007, The Star-Ledger broke the news that John Ashcroft, the former attorney general who had been Mr. Christie's boss at the DOJ, received a "$52 million payday" for serving as an outside monitor to medical device company Zimmer Holdings. Another DPA led to Bristol-Myers Squibb agreeing to spend $5 million to fund a business ethics program at Seton Hall University, where Mr. Christie had attended law school. And then there was the mother of all eyebrow-raising DPA paydays.
When the University of Medicine and Dentistry of New Jersey, one of the largest medical schools in the country, was revealed in 2005 to be a veritable parking garage for politically connected no-show jobs, Mr. Christie tapped an old friend, mentor and predecessor, former New Jersey U.S. Attorney Herb Stern, to serve as the school's federal monitor. Mr. Stern is a giant in New Jersey legal circles—he is the subject of the book Tiger In the Court—but his fees after his return to private practice had raised eyebrows. The former CEO of Qwest, Joseph Nacchio, alleged that Mr. Stern wildly overbilled him for "duplicative and unnecessary work," including sending seven attorneys to attend a court appearance and even charging thousands for staff breakfasts, in-room movies and underwear. According to The New York Times, Mr. Stern's firm "ultimately billed the state for more than $10 million." A couple of days after Mr. Stern landed the contract, Mr. Christie hired Samuel Stern, the son of Herb Stern, despite what were reported by The Star-Ledger to be "objections from nearly every assistant U.S. attorney who interviewed him." A couple days after that, Mr. Christie announced his own resignation as U.S. attorney.
***
Heading toward the 2013 election, powerful Democrats did not consider a coordinated opposition plan. They simply tried to figure out whether to endorse him (as did powerful North Jersey Dems like Essex County Executive Joe DiVincenzo and State Senator Brian P. Stack of Union City) or remain publicly on the record for Ms. Buono while making sure Mr. Christie knew they did little to aid in her quest.
To kick off of his campaign, the theatrical Mr. Christie wanted to make a dramatic statement, and so he highlighted his reelection effort with a Dec. 18, 2012, endorsement by Ray Pocino, a labor leader and newly reappointed commissioner to the Port Authority of New York and New Jersey.
In a labor hall packed with orange- and purple-clad union men claiming membership in LIUNA, Mr. Pocino cited the GOP governor's accomplishments, including his signing of the Higher Education Bond Act, which he said would lead to more than $1 billion in construction, including new classrooms and labs, authorization of the Transportation Trust Fund Authority for roads and bridges improvement totaling an estimated $5 billion and his support for the Revel Casino project and the Bayonne Bridge project.
"I have no idea who I'll be running against, and frankly I don't care," Mr. Christie said, and one by one, prominent Democrats began to declare their decisions not to run against the governor.
Rank-and-file union men in the room that day in Cliffwood rolled their eyes at the image of Mr. Pocino arm and arm with the Republican governor, but no one dared to question the support publicly. Barring a Christie implosion, the powerful union's endorsement all but sealed the governor's reelection.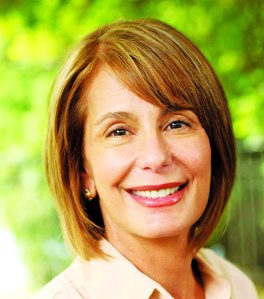 Meanwhile, Democratic elected officials spent more time sweating the consequences of the political wrath of the Christie administration than planning any 2013 contrast messages. "Don't use my picture with Barbara Buono, please," one Democrat pleaded with PolitickerNJ, terrified of turning into a human bull's-eye at election time.
As the 2013 gubernatorial election unfolded and Ms. Buono failed to secure substantial support from her fellow Democrats, the governor spoke to the palpable fear at an event last May when another local Democratic mayor, Jim Fazzone of Burlington City, stood glued to Mr. Christie with the Delaware River slithering picturesquely in the background.
"I never understood it as fear," the imposing incumbent said of his psychological impact on the other party's mindset. "I see it as respect."
At another endorsement rollout, this time in Sea Bright with Democratic Mayor Dina Long, Mr. Christie denied that mayors could expect preferential aid treatment from the governor's office if they endorsed him. His administration awards money based on merit, he argued, bristling at the suggestion that he would use politics to determine allocation of aid and saying that kind of approach vaguely reminded him of what he prosecuted politicians for when he was U.S. attorney.
Meanwhile, everyone in New Jersey saw exactly what happened to elected Democrats who stood in the path of Freight Train Christie. In June, Steve Fulop was elected mayor of Jersey City, the state's second largest city and its most important site for future development. The Christie administration greeted him with open arms. On June 20, Bridget Anne Kelly, the governor's deputy chief of staff, emailed the soon-to-be mayor, "Congratulations, Mayor Elect! … We're looking forward to working closely with you and your administration. As Veronica explained, we'd like to get you in a room with the commissioners and staff that can be most helpful to you." She then lists "off the top of my head" all the commissioners she'd like Mr. Fulop to meet, including those from the Treasury, Transportation, Community Affairs and Recovery and Rebuilding Departments. Meetings were scheduled with leaders of five relevant departments plus the governor's close personal friend and aide, Michele Brown, who headed Economic Development. Ms. Kelly replied cheerily, "July 23rd is the day!"
On July 18, four of those departments suddenly canceled their meetings. On July 22, Michelle Brown canceled. "No explanation was given." The mayor emailed his assistant and told her, "Try and reschedule. See what they say." Mr. Fulop declined to endorse Mr. Christie. The meetings never happened.
Now, amid the ongoing Assembly Transportation Committee inquiry into the George Washington Bridge scandal, the alleged intimidation by the Christie administration of the Democratic mayor of Fort Lee, Mark Sokolich, evidence of government endangerment of the public welfare for political purposes and questions about what Mr. Christie knew, observers point to this governor as the originator of a political culture, as though Mr. Christie birthed his preferred tactics of menace in the same state that gave us Frank "I Am the Law" Hague.
The fact is that New Jersey politicians have long lived in an atmosphere of paranoia.
Politics in New Jersey is paranoia.
Chris Christie did not create the culture—but he feeds it. And he has been a master manipulator of that culture.
***
By the spring of 2002, trying to guess the identity of "Wally Edge" was the most popular parlor game in New Jersey political circles. Operating under a pseudonym taken from a former New Jersey governor, Wally Edge had started a blog called PoliticsNJ (now called PolitickerNJ and since 2007 owned by the same company that owns The New York Observer), and in its first years, it gained traction among the state's politics junkies. To understand why, one has to understand New Jersey.
The nation's 11th most populous state has no native network TV stations. It has no dominant newspaper. And it has both the most powerful governor in the country and the most powerful U.S. attorney in the country—the former because back then the governor was the sole statewide elected official (now there's a lieutenant governor) and the latter because New Jersey is the biggest state that has only one U.S. attorney. So a vacuum emerged—a ton of fascinating political news occurred with no one around to cover it. And with no one to cover it, the politicians noticed they could get away with anything. That led to some of the most colorful political corruption scandals in American history and dovetailed perfectly with a New Jersey-based television show gripping the nation's consciousness. The term "Soprano state" was born, and so was PoliticsNJ, whose editor had a penchant for breaking unknown stories and unearthing interesting angles to well-known stories.
People suspected Wally Edge was anyone from a gang of political consultants trying to help their clients to elected officials trying to help themselves. But savvy guessers started to hone in on Mr. Christie's inner circle as far back as spring 2002, when PoliticsNJ landed the scoop that put it on the map: the stunning arrest of James Treffinger. Mr. Treffinger was not only the Essex County executive, a rare Republican officeholder in the county that houses Newark. He was also at the time leading the pack in a GOP U.S. Senate primary race to take on the scandal-scarred incumbent, Bob Torricelli.
Christie watchers smelled a conspiracy. The U.S. attorney, already being floated as a future gubernatorial or senatorial candidate a year into his term, had no interest in a Republican getting elected statewide, especially one like Mr. Treffinger, a big loud guy born in Newark, raised in suburban Essex, with both Italian and Irish heritage whose plain-talking populist stance and ability to win votes from Democrats. That bio reminded many of Chris Christie.
So who ended up with this bombshell, which included juicy revelations of Jersey-style graft, including no-show jobs for Mr. Treffinger's barber and county contracts in exchange for campaign dough? PoliticsNJ beat the AP, The New York Times, The Star-Ledger, Gannett and everyone else by an hour. Wally Edge, later revealed to be Mr. Christie's friend and fellow Livingston High graduate David Wildstein (Livingston is also in Essex County), had the scoop, and the site vaulted from a curiosity to a must-read overnight. Eight years later, Mr. Wildstein was named director of interstate capital projects at the Port Authority of New York and New Jersey, and a couple years after that, he texted, "Got it," in reply to a text from Ms. Kelly that read, "Time for some traffic problems in Fort Lee."
As his campaigns continually displayed, Mr. Christie understood that politics in New Jersey hinges on machines and that the so-called blue state—a bastion of progressive politics to those who read the results of presidential elections—exists according to the testosterone-fueled tough guy commands of county bosses who control the county lines and consolidate power with political patronage. Mr. Christie and his operatives employed a full-scale, statewide understanding of those county-by-county empires.
It didn't hurt that as U.S. attorney Mr. Christie removed two of those bosses with timely prosecutions: John Lynch in Middlesex and Joe Ferriero in Bergen. And it didn't hurt him politically as governor to partner very publicly with the two most powerful bosses left standing: George Norcross III in South Jersey and Steve Adubato, Sr., in Essex County.
Roaring to victory over Ms. Buono by summertime, the Republican governor's campaign, roundly hailed for discipline, inevitably allowed irrepressible and dangerous arrogance to spill over. Aug. 13 was the date on which Ms. Kelly's "time for some traffic problems" may have critically wounded her principal and dashed the ambitions of the longtime 2016 presidential front-runner.
In retrospect, given his 60 percent/38 percent win—and here's where the comparisons to Richard Nixon's Watergate rebound on Mr. Christie with a vengeance—everything was in place for the historic, presidential-campaign-launching win.
Beyond the borders of New Jersey, observers marveled at Mr. Christie "the Reformer," but his brand of reform has been to use an alliance with one arm of labor to bludgeon another.
He drew himself close to Mr. Sweeney, a steelworker and close ally of Mr. Norcross, and to Mr. DiVincenzo, a close ally of Mr. Adubato, while scattered Lynch allies, Ms. Buono and Assemblyman John Wisniewski of Sayreville, attempted to oppose his advance.
Gov. Christie's post-Hurricane Sandy numbers showed him unbeatable, and as he racked up the support of Democrats intent on defining a "relationship" with the powerful and increasingly inevitable incumbent—well over 60 elected Democrats stood in his corner by Election Day 2013—Sen. Buono plummeted into increasing obscurity.
She would show up to events in her home county of Middlesex expecting to find longtime mayors waiting to appear with her publicly and end up appearing at a podium alone.
The polls would never tighten.
***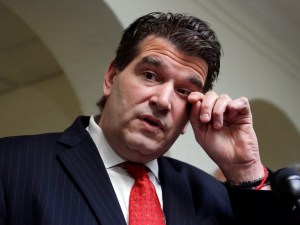 But on Sept. 9 of last year, two of three lanes leading to the Fort Lee entrance of the George Washington Bridge inexplicably closed, creating an epic traffic jam that will live in infamy.
It has now been revealed that Matt Mowers, the Christie campaign's regional political director, "approached" Fort Lee Mayor Mr. Sokolich about an endorsement, though, according to The Wall Street Journal, "Mr. Sokolich has said he was never directly asked to endorse Mr. Christie." Mr. Mowers was a favorite of Christie insider Amanda De Palma, his political director, who discovered Mr. Mowers when he was an ambitious Young Republican in high school and found him spots on campaigns as he earned his stripes as an operative and College Republican at Rutgers. On Nov. 6, the day after Gov. Christie was reelected, Mr. Mowers accepted a job as the executive director of the New Hampshire GOP in a move that was widely interpreted as laying the groundwork for a presidential run in a key state that appreciates blunt-talking, independent-minded Republicans.
It is unclear whether the traffic jam was retribution for Mr. Sokolich's refusal to endorse. If it was, it's a strange payback. It's hard to picture a Fort Lee voter sitting in traffic saying, "Damn you, Mr. Mayor." Yet Ms. Kelly's order to Port Authority ally Mr. Wildstein does sharply contrast with Mr. Christie's partnership with another Democratic Party mayor, who, unlike Mr. Sokolich, did endorse Mr. Christie.
The context of both mayors' politics has a possible tie to the Port Authority of New York and New Jersey, which had, according to the public record, big designs for projects in the two Democrat towns.
One project is in full swing, and one is not.
In Harrison, the Port Authority last year announced construction of a $256 million PATH Rail Station, a complete upgrade from the Depression-era facility that formerly served the town.
Veteran Harrison Mayor Ray McDonough was the first Democratic Party mayor to endorse Mr. Christie for governor.
At the time, prior to multiple endorsements of Democratic mayors, it was a big news story, occurring on the morning of the annual New Jersey Chamber of Commerce March to Washington.
The Port Authority similarly had work to do in Fort Lee, another town that interfaces with the bistate operation, where Mr. Sokolich backs a local, massive development project close to the entranceway to the bridge.
On Feb. 6 of last year, Port Authority commissioners approved a $177.5 million project to replace a Palisades Parkway helix located in the town. The Port Authority described the helix as a "key approach to the George Washington Bridge."
"Replacing the Palisades Interstate Parkway Helix is essential to ensuring that the George Washington Bridge, the world's biggest crossing, will continue to effectively and safely serve the businesses and travelers of our region for decades to come," said Port Authority Chairman David Samson, an ally so close to the governor that early campaign meetings were held in the West Orange law offices of Wolff and Samson. Mr. Samson's name surfaced in the Bridgegate emails again and again.
As the commissioners undertook part of a larger $350 million program to rehabilitate various structural elements of the bridge, then-Port Authority Deputy Executive Director Bill Baroni pointed out the specific benefits to the Fort Lee population.
"The construction of a temporary access ramp is just one step we are taking to minimize the effects of construction on the people of Fort Lee as we work to create [a] smoother, more reliable commute across the George Washington Bridge for everyone," said Mr. Baroni, a former Republican state senator best known for winning a shoe-leather campaign in a Democrat-leaning district and for being the lone Republican supporter of a bill promoting marriage equality.
Fort Lee Councilman Harvey Sohmer said the mayor and council wanted the project.
"The helix was going to be done to alleviate traffic in the town," Mr. Sohmer said. "Of course, we wanted it. Anything to alleviate traffic in town we are really for."
Asked about the status of the project now, the councilman said, "I think it's been shelved. All the money, to my knowledge, went to the World Trade Center."
Fort Lee Councilwoman Ila Kasofsky confirmed the apparent abandonment of the helix project.
"There was talk about the area beside being developed," the councilwoman said. "The locals said then and are still worried now about the traffic. The traffic is brutal, and the residents are frustrated. The Port Authority execs were in our borough hall, making presentations about the project. I was there. But it never happened, and I don't know why."
Mr. Sohmer said the spot in question is at present an ugly eyesore and the source of local complaints. (The Observer has since confirmed with a spokesman for the Port Authority that the project is not stalled and will, in fact, go ahead. But that did not diminish the bewilderment of Fort Lee elected officials regarding its delay and speaks to the way politics is perceived to be based on "who's in and who's out" in New Jersey.)
Now, as Assembly Transportation Committee Chairman Mr. Wisniewski, rejuvenated after wandering in the political wilderness, continues to employ subpoena power to get answers from those people in and around the George Washington Bridge scandal—a week removed from Mr. Wildstein's invocation of the Fifth Amendment and Mr. Christie's insistence that he knew nothing, and his apology to the people of New Jersey and Fort Lee—the governor's own mentor, former Governor Tom Kean, Sr., questions his fitness for the presidency.
People should ask whether a leader exhibiting such indiscipline—or worse—should run the country, the beloved elder statesman and former governor told The Washington Post. But even more disorienting for Mr. Christie, as he tried to trudge through this scandal and govern New Jersey, was the fact that even Republicans were speaking out against him, an unthinkable ignominy just weeks ago. The fear Mr. Christie once exerted appeared to be slipping from his grasp.
CORRECTION: An earlier version of this story stated that the Democratic mayor of Burlington, Brian Carlin, endorsed Gov. Chris Christie. In fact, it was Jim Fazzone, Democratic mayor from the neighboring municipality of Burlington City. The Observer regrets the error.