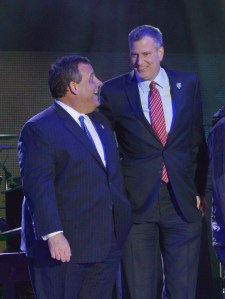 JERSEY CITY, N.J. — Mayor Bill de Blasio may have harshly criticized New Jersey Gov. Chris Christie for his administration's recent "bridgegate" scandal, but for one night, at least, it was all water under the bridge.
The pair kicked off this weekend's Super Bowl festivities with a joint appearance in Jersey City last night. And if Mr. de Blasio had any lingering harsh feelings about the alleged traffic shutdown over the George Washington Bridge, he certainly didn't show it.
Instead, the bipartisan pair looked like old friends as they appeared on stage together to count down to a fireworks display at the end of the Super Bowl Kickoff Spectacular concert in Liberty State park, standing next to each other, smiling and chatting back at forth.
At one point, the taller Mr. de Blasio put his arm around the rotund governor as they chatted. At another, Mr. de Blasio appeared to be joking with the governor, pointing his finger at the governor's chest. Later, they appeared to be engaged in more serious conversation, with the mayor's head bowed to listen to the governor.
But many in the crowd booed as Mr. Christie made his entrance with Mr. de Blasio, NY/NJ Super Bowl Host Company President Alfred F. Kelly, Jr., New York Giants co-owner Jonathan Tisch, New York Jets owner Woody Johnson and Macy's CEO Terry Lundgren.
"The governor is here," offered one spectator when asked about the icy response. "We're Democratic in New Jersey." (In contrast, Mr. Lundgren earned especially loud applause.)
Before the event, Mr. Christie told reporters that he was looking forward to seeing the mayor as he boasted about the football teams landing at Newark Airport instead of LaGuardia or JFK.
"I'll be with Mayor de Blasio tonight. We'll have fun together, it's great. I love Gov. Cuomo, we're good friends," he said, according to a video posted on his YouTube channel.
A spokeswoman for Mr. de Blasio did not immediately respond to a request for comment about how long the pair have known each other or when they met. Earlier this month, Mr. de Blasio said the "Bridgegate" controversy  "obviously raises bigger questions" about Mr. Christie's leadership.
A reception the pair attended earlier in the evening at an event space in the park was closed to members of the press.