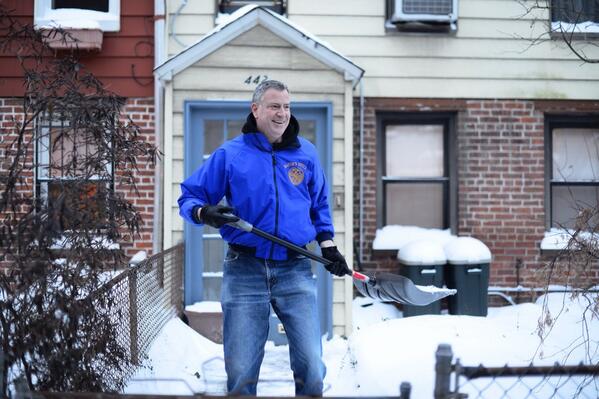 Wasn't he supposed to be living in Gracie Mansion?
Mayor Bill de Blasio, still ensconced in his Park Slope home, again shoveled his sidewalk for the cameras this morning. Repeating his much-heralded snow-shoveling performance from a snow storm earlier in January, Mr. de Blasio said he was satisfied with the city's response to the storm–even as some of his future neighbors on the Upper East Side reportedly raged against unplowed streets. 
"I think the city handled it very well. There's always, look, there's always going to be isolated incidents and there's always going to be situations where the snow comes up rapidly, as it did for a few hours there, it really sped up and intensified, sadly right before the evening rush hour," Mr. de Blasio, clad in a blue city-issued jacket, told NY1. "But the minute they had the streets clear–in other words there was not traffic in the way–sanitation did a remarkable job."
"I was out around Manhattan, looking what was going on, and I saw tremendous efforts by sanitation and the second they had a chance to have the freedom to do their work properly, they did an incredible job," he added.
Mr. de Blasio also revealed that his son, Dante, had to stay up late last night doing homework after his father's administration decided to keep public schools open. During the last snowstorm, his son had to help shovel snow.
He also lamented that the powdery snow was not "very satisfying" to shovel as he again doled out technique guidance.
"Remember, use your legs, use your knees," he advised the public. "Do not use your back. Get low, use your knees, that's the best way to shovel properly."