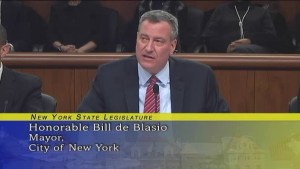 Mayor Bill de Blasio traveled to Albany today to testify for the first time at a state budget hearing, where he tried to persuade lawmakers to pass his signature proposal to hike taxes on the wealthy to fund universal pre-kindergarten.
The plan puts him at odds with Gov. Andrew Cuomo, who has proposed funding the programs with other revenue.
Earlier today, Mr. de Blasio released a report showing that the city is ready to move forward with funding full-day pre-K for 53,604 children come September 2014, thanks to existing classroom spaces and teachers reserves, at a cost of $340 million a year.
"We look forward to working with the governor, and all of you, to win its approval by the voters, and secure funding for necessary pre-K classroom construction and equipment purchases. But let's be clear about two principles key to making true universal pre-K a reality," Mr. de Blasio testified. "First, funding for universal, full-day pre-K must be dedicated and sufficient to meet the immediate needs of our children, and the clearly-expressed mandate given by the residents of New York City."
"And second, the funding must be predictable and consistent," he added. 
Mr. de Blasio argued that the unstable fiscal environment created by an unprecedented number of expired labor contracts has made a dedicated funding stream for pre-K necessary. A recent New York Post story charged that Mr. de Blasio's tax-the-rich plan was largely a ruse to raise money to pay for raises for his labor allies. But the mayor insisted today that was not his aim, telling lawmakers that his tax hike would, "only be used for the purposes of pre-K and after school" programs.
"There are some who whisper that our drive to tax the rich to fund pre-K and after-school is just political posturing–an effort to heap scorn on the wealthy to win an election," Mr. de Blasio declared. "But the election in New York City is over, and we are here to work with our leaders in Albany to govern. This is about our commitment to 'One New York,' where we all rise together."
Mr. de Blasio further argued that New York City has a right to raise its own taxes, pointing to recent history: several times, he noted, the state legislature allowed the city to raise taxes in the early 1990s to fund then-Mayor David Dinkins' anti-crime initiatives.
State lawmakers were largely open to Mr. de Blasio, though they had a wide range of questions related to how the mayor would implement such a far reaching program, whom would be served and why it was needed. Not surprisingly, Republicans like Senator John DeFranciso and Assemblywoman Jane Corwin were more skeptical of Mr. de Blasio than Democrats, particularly downstate liberals like Senator Diane Savino, who managed to heap plenty of praise upon the mayor. 
"My concern is, if you have 35,000 taxpayers paying the bulk of the taxes, what happens if some of them leave the state?" asked Ms. Corwin, a western New York lawmaker. "Right now, a study just came out that showed New York State has the highest out migration of any state in the nation. We've got people leaving in droves for various reasons." 
Mr. de Blasio, responding to criticism that is common in conservative circles, said universal pre-K could be a magnet for New Yorkers to remain in the state.
"Nothing is more important than the quality of the school system," he said. "I would argue to you that this is an investment that actually will improve our business climate, that will improve out real estate values, that will make our city more livable."