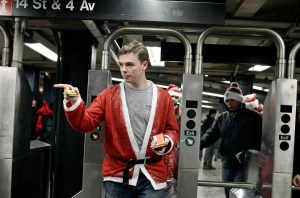 Take a seat, Colossus. Go hang somewhere else, Hanging Gardens of Babylon. Time to turn off the lights, Lighthouse of Alexandria.
There's a new world wonder in town: the Metropolitan Transportation Authority–at least according to Mayor Bill de Blasio.
The mayor today heaped unyielding praise on the transit agency, which oversees the city's subway and bus systems as well as trains serving the surrounding region, declaring the MTA a contender for the "eighth wonder of the world."
"We often hear different things around the world described as the 'eighth wonder of the world.' It's one of the great overused phrases," said Mr. de Blasio, speaking at a Daily News awards event honoring transit "heroes." "But with the MTA we may have found a candidate worthy for the title. It really may be the eighth wonder of the world."
Mr. de Blasio went on to marvel at the size of the system, which shuttles millions of riders every day.
"There are enough subway tracks to stretch to Chicago, more than 230 bus routes in one of the greatest transit systems history has ever seen. Each year it serves more than 2.3 billion riders," he continued. "But what's most impressive about the MTA isn't the numbers, it's the people behind the wheel."
And Mr. de Blasio wasn't the only city official to wax philosophical about the subways today. NYPD Commissioner Bill Bratton, speaking at the same event, declared the subway pole "the true symbol of New York."
"I think the true symbol of New York is, in fact, the subway pole. You look at that pole and all of the different hands that represent all the different New Yorkers that make up this great city. It is the true symbol of this city," said the commissioner. "It is the lifeline–lifeblood"
MTA spokesman Adam Lisberg, who was in the crowd at the event, reacted with modesty. "We're glad to hear such high praise from the mayor and look forward to a strong working relationship with him," he told Politicker via email.
Additional reporting by Jill Colvin.