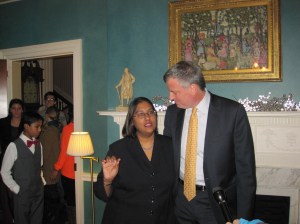 Mayor Bill de Blasio today played host at Gracie Mansion to several thousand New Yorkers who waited hours in the frigid cold for a quick photo-op with the new mayor.
But Mr. de Blasio, who spent weeks mulling whether he and his family would move into the opulent digs, made clear he was in no rush to decamp from his current Park Slope row house to the Upper East Side.
"We have not set a date yet. It'll be a little while," he told reporters between photo-ops when asked about the status of his move. "With all the snowstorms and planes running on the Deegan Expressway, we've been kind of busy."
Nonetheless the open house event drew thousands of enthusiastic attendees who'd scooped up tickets online and waited for hours in the freezing cold–in a line that snaked through Gracie Mansion, out the building, through Carl Schurz Park, and all the way to the East River waterfront–for a chance to tour the official residence and shake hands with the new mayor.
Reporters invited to attend the open house were ushered in in small groups to observe Mr. de Blasio's interactions in 10-minute blocks. Politicker arrived as Mr. de Blasio welcomed Pete Webb, 40, a real estate developer who lives in Manhattan.
"So I'm here with Pete Webb, who will be my colleague as I give my remarks," said Mr. de Blasio with a laugh before explaining the aims of the afternoon.
"We felt for this whole inauguration that it was crucial to make clear government was open to the people. This is the people's house. Gracie Mansion is the people's house. City Hall is the people's house. We want people to know, in everything we do, they are welcome in," he said.
"And I can tell you already from the response–I hope you feel the same way–that people are really happy to be here because it is their house, but most New Yorkers haven't had a chance to see it. And so we're really excited to give the people a chance to see that which is theirs and make them a part of it."
"You have something to say? Offer it," Mr. de Blasio then encouraged his guest.
"I'm very happy to be here to support our new mayor," said Mr. Webb, who said he'd spent about an hour in line in the cold. "It's beautiful. The restoration's gorgeous. And it's a beautiful testament to our city and a landmark for our community."
Then came Shannon Graham, who lives in Bushwick. "How are you? What's your name?" asked Mr. de Blasio, transforming from mayor to TV host as he interviewed attendees before summarizing their answers to the gathered press. "Shannon from Brooklyn has never been to Gracie before. Please give the media your review of what you've seen at Gracie Mansion," he instructed.
"I think it's very nice," she responded.
"And do you like the opportunity to come and check it out?" he wondered. "Well, you're very welcome. This is your house. It belongs to you. I'm just borrowing it."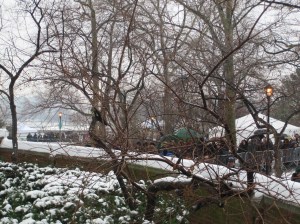 Last came Petal Hwang, 39, a recent law school grad who has been volunteering with the city's Office of Administrative Trials and Hearings and helped with the campaign.
"Have you ever been here before? What's your name?" asked Mr. de Blasio, before summarizing again. "Petal–P-E-T-A-L. What's your last name? H-W-A-N-G. Which borough are you from? Manhattan. Which neighborhood? Upper West Side. You've never been here before. Okay, tell the media what you think of Gracie Mansion."
"It's beautiful. I love the colors. Pick a color and commit, as a friend of mine said," said Ms. Hwang, who said she'd waited about an hour and a half in the cold for what she described as "a once-and-a-lifetime opportunity" to meet the new mayor.
"Pick a color and commit. Okay, I'm gonna use that as my slogan," quipped Mr. de Blasio, before calling over Ms. Hwang's 11-year-old son, Derek, to speak as well.
"Derek, we want to hear from the new generation, tell our friend here–turn to the media–what do you think of Gracie Mansion?" he asked.
"I think it's really interesting. And I like the use of the colors," responded the little boy.
"Yes, I see that runs in the family," said Mr. de Blasio, drawing laughs. "And what do you think? You ever been in a house like this before? Is it your first time here? Do you know it belongs to you? It belongs to all the people, did you know that? All the people of this city. So you have a one out of 8.4 million share of this place."
Overall, most of the men and the women leaving the building said the wait had been well worth it, despite the pain of standing hours in the cold.
But not everyone felt that way. Brooklyn's Marc Klein, 34, complained about his treatment by the mayor's office's staff.
"I felt that they were rushing it. They weren't letting people savor the moment," he told reporters, estimating that he'd had "about two seconds" of face time with the new mayor after waiting for about two hours outside.
"They should have said that, you know, people are here, it's historic, it's a once-in-a lifetime thing, you know, let them do whatever they want here and as [long as] nobody's kill[ing] each other, that's fine," he said, adding that he was nonetheless happy he'd come.
"It was a good experience. It was history, once in a lifetime," he said. "You know, it was very nice for him to open his home to the public. I don't think any mayor's ever done that."