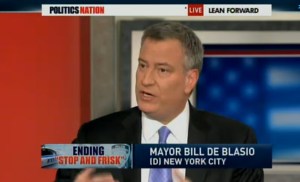 In his first cable TV appearance since becoming mayor, Bill de Blasio paid a visit to Rev. Al Sharpton's MSNBC show, where the two chatted about the end of the city's appeal against a prominent stop-and-frisk ruling, Hillary Clinton's potential presidential campaign and a top Sharpton aide's role in the de Blasio administration.
Unsurprisingly, the two behaved like old friends. Mr. de Blasio thanked Mr. Sharpton for leading an anti stop-and-frisk rally, while Mr. Sharpton hailed the new mayor as a rare politician who could keep his word.
"Your election was seen as an inspiration to progressives across the country," Mr. Sharpton said, proceeding to quote extensively from a New York Times story that called him a "national liberal leader." "Do you think other cities will also change their police department based on what's happening in New York and look at reform?"
"I hope we set a good example, this is a historic moment for this city," Mr. de Blasio replied, referring to his announcement today that the city would be dropping its appeal of a federal ruling that found the NYPD's use of stop-and-frisk unconstitutional. "If this historic agreement helps to encourage others, well God bless, that's an even better day then."
Mr. de Blasio has been a frequent guest at Mr. Sharpton's National Action Networks events since his election and the two have been close political allies during the start of the new mayor's administration. Earlier this month, Mr. de Blasio announced that a top Sharpton aide, Rachel Noerdlinger, had been hired as his wife Chirlane McCray's chief of staff. (This afternoon, Ms. Noerdlinger released a statement on Mr. Sharpton's behalf praising Mr. de Blasio's stop-and-frisk announcement. She is set to begin her new job Monday, according to a City Hall spokesman–though she has already been spotted accompanying Ms. McCray to events.)
Speaking about Ms. Noerdlinger's hire, Mr. Sharpton noted that the city's press corps "seems to question" the role that Ms. McCray will play in his administration–which remains unclear.
"Everything we've done, we've done together. We met in City Hall," replied Mr. de Blasio. "She's the first person I turn to for advice and guidance in everything I do. So I am proud of the role she plays, I think the people of this city love her as their first lady and I'm glad she has a fantastic chief of staff coming in, I'm glad you trained Rachel Noerdlinger so well."
"People I think just need to recognize, we've said throughout she's my partner, she's the most important voice in my life," he continued. "We're just going to continue in that vein and I think most people in New York City get that and appreciate that."
Mr. Sharpton then turned to national politics, asking Mr. de Blasio if he believed Hillary Clinton should run for president. Mr. de Blasio, who managed Ms. Clinton's 2000 U.S. Senate campaign, declined to say whether he believed she should run but maintained Ms. Clinton would make a "fantastic president."
"I know she'd be a great president, I know that," said the mayor. "She'll make her own decision, I can only affirm you one thing, having spent a year of my life shoulder to shoulder with her, she'd make a fantastic president."