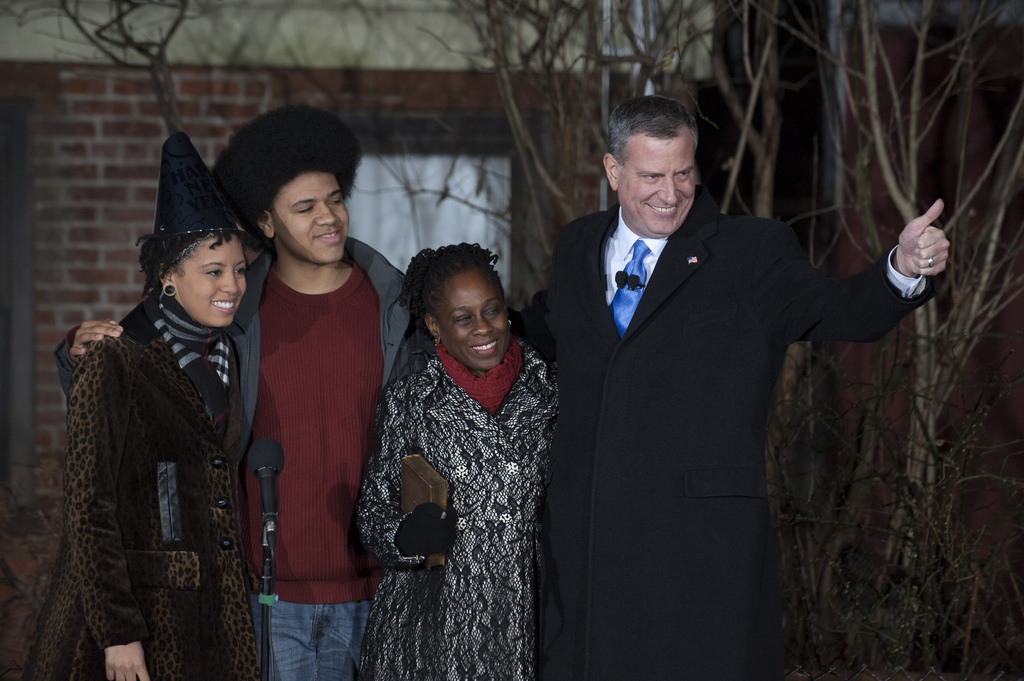 Bill de Blasio was officially sworn in as the 109th mayor of New York City just after midnight this morning outside his Park Slope home.
"I want to say to all of you how grateful we are," Mr. de Blasio told the small group gathered on what he called "the most wonderful block in all of Brooklyn," where he was joined by his wife, Chirlane, and his children, Dante and Chiara.
"This is a beginning of a road we will travel together," he said.
The location, of course, was symbolic: the same place Mr. de Blasio officially launched his campaign nearly a year ago, on another frigid January day. At the time, Mr. de Blasio, then the public advocate, was considered a long-shot for the office he went on to win by the largest margin of any non-incumbent in city history.
This time, Mr. de Blasio and his family emerged from their home together just after midnight to cheers and applause from a small crowd in front of the house, where Attorney General Eric Schneiderman asked Mr. de Blasio to recite the oath of office, with his hand placed on a bible.
"Paul Wellstone said that it is the belief that extremes and excesses of inequality must be reduced so that each person is free to fully develop his or her potential. This is why we take precious times out of our lives and give it to politics," said Schneiderman, doubling down on the message that swept Mr. de Blasio into office: fighting income inequality.
"We're here in gratitude for Bill for his serve up til now and his service as the mayor of the City of New York, which begins right now," he said, eliciting more applause from the crowd, which included Patrick Gaspard and Howard Dean, Steve Buscemi, according to a pool report.
Mr. de Blasio then signed the city clerk's book and paid the required $9 filing fee, officially taking over from former Mayor Michael Bloomberg.
"Thank you, Mr. Mayor. Congratulations,"  the clerk, Michael McSweeney, said.
In brief remarks, Mr. de Blasio, who will be publicly sworn in again tomorrow by President Bill Clinton on the step of City Hall, wished the crowd a happy new year and offered his thanks.
"I want to say to all of you how grateful we are," he said. "From the beginning, this has been our family together, reaching out to the people of this city to make a change that we all needed. I want to thank you for having brought us to this moment. I want to thank especially our neighbors who can hear us tonight–the most wonderful block in all of Brooklyn–and they've been so kind throughout."
"Many great things ahead for all of us," he added. "A happy new year and we will see you tomorrow."
You can watch the full ceremony here:
[youtube=http://www.youtube.com/watch?v=4Lf-YoJAx3Q&w=560&h=315]