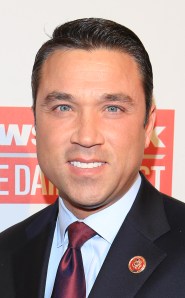 Mayor Bill de Blasio today called on Congressman Michael Grimm to apologize after the Staten Island lawmaker threatened to physically assault NY1 reporter Michael Scotto during an interview following the president's State of the Union speech, according to an NY1 transcript of the exchange.
"Absolutely inappropriate. Absolutely inappropriate," Mr. de Blasio told reporters when asked for his thoughts on the incident at an unrelated press conference this morning. "You know, we're going to have moments between all of us in public life and all of you who do your job where we have disagreements or tensions, but it's absolutely inappropriate for it to be expressed in that manner."
"There has to be neutral respect even when your questions are tough–your job is to ask tough questions. But to physically threaten someone? That's something no public servant should do. And I think he owes Mr. Scotto an apology," he added.

Mr. de Blasio, a Democrat, later called on House Majority Leader Eric Cantor to take steps to sanction the Republican congressman over his remarks.
"Absolutely. You don't threaten reporters physically–a physical threat! It's unacceptable. Look. I think all of us who go into public life accept a higher set of standards," said the mayor. "We always have to ask the question: What does it say to our constituents? What does it say to the people? What does it say to our young people? A leader can't do that. It's just absolutely unacceptable. And if a leader does do that then those in power, those in the leadership structure, have to speak out. So I would hope that the House leadership says very strongly this is unacceptable behavior."
NY1 political director Bob Hardt has also called on Mr. Grimm to apologize for the confrontation, which arose after Mr. Scotto, a D.C.-based reporter for the station, pressed Mr. Grimm on illegal fund-raising allegations stemming from the congressman's 2010 campaign for office.
A spokesperson for Mr. Grimm declined to immediately comment on Mr. de Blasio's and Mr. Hardt's calls, but the congressman defended his reaction to Politicker last night.
"I was extremely annoyed because I was doing NY1 a favor by rushing to do their interview first in lieu of several other requests," he said in a statement. "The reporter knew that I was in a hurry and was only there to comment on the State of the Union, but insisted on taking a disrespectful and cheap shot at the end of the interview, because I did not have time to speak off-topic."
"I verbally took the reporter to task and told him off, because I expect a certain level of professionalism and respect, especially when I go out of my way to do that reporter a favor. I doubt that I am the first Member of Congress to tell off a reporter, and I am sure I won't be the last," he added.