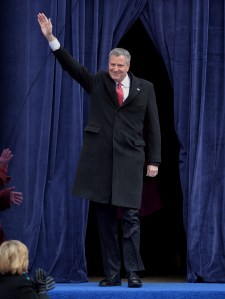 Donors hoping to gain favor with newly elected Mayor Bill de Blasio had one last chance to fill his coffers before his administration kicked into high gear. They took advantage of the opportunity.
New and loyal backers pumped more than $2 million into Mr. de Blasio's transition effort, new campaign finance filings show. And with Mr. de Blasio already elected, it perhaps isn't surprising that many of those offering last-minute backing have a financial stake in his administration.
Among the notable names who maxed out on their giving—in addition to real estate titans like SL Green's Stephen Green, Alexander Durst from the the Durst organization and the usual smattering of attorneys and finance types—were Hollywood director Steven Spielberg and his wife, Kate Capshaw, as well as DreamWorks Animation CEO Jeffrey Katzenberg and his wife, Marilyn. Both of the couples contributed the max $9,000 to Mr. de Blasio's transition efforts. Neither had contributed to his campaign.
Then there's the taxi industry, which according to Capital New York's tabulations, gave more than $350,000 to Mr. de Blasio over the course of his campaign. They didn't stop giving. The industry, which battled former Mayor Michael Bloomberg over outer-borough green apple cabs and efforts to standardize the industry, contributed another $45,000 to the mayor's inauguration and transition efforts, the records show. The sum includes maximum contributions from Jose Altamilano, the president of El Barrios Car Service, Neil Greenbaum and Eldar Guseynov, the manager and COO of All Taxi Management, respectively, as well as many smaller contributions from drivers and medallion owners.
Transit advocates have long been puzzled by Mr. de Blasio's vague opposition to the outer-borough cabs, which appear to have proven popular in the communities they serve, prompting critics to speculate that the contributions could be the motivation. Mr. de Blasio has repeatedly denied this, however.
Mr. de Blasio's press office did not immediately respond to questions about the implications of the contributions—or others in the filings.
Among the transition's biggest bundlers were Charles Hocking ($30,350), election lawyer and lobbyist Stanley Schlein ($25,340) and Mercury Public Affairs' Jonathan Greenspun ($23,000). Also on the list: Harold Ickes, who raised $10,000 on Mr. de Blasio's behalf.
Mr. Hocking, who also contributed $1,100 to Mr. de Blasio himself, is the president of Hazen and Sawyer, an engineering firm that specializes in providing safe drinking water and controlling water pollution, according to its website. The firm has tens of millions of dollars of worth of contracts with the city's Department of Environmental Protection, according to city records. Employees at the firm, who live as far away as Georgia, Florida and North Carolina, also made a total of 43 contributions to the transition, totaling $16,200, the campaign records show. Mr. Hocking did not respond to an email seeking comment.
According to city's campaign finance board, individuals doing business with the city are barred from contributing to transition efforts. But that doesn't stop them from bundling money from other donors.
Mr. Schlein, a top election lawyer and registered lobbyist with the city, is identified in Mr. de Blasio's filings as working on behalf of Dominion Voting Systems Inc., which produces electronic voting systems for many districts across the state. The firm holds nearly $50 million in contracts with the city, records show, and provides absentee and affidavit ballots and other services to the city's Board of Elections, according to a spokeswoman for the board.
Mr. Schlein also does business with the city as an employee of Crossroads Developer LLC, which is doing work with the city's Department of Housing Preservation and Development, city records show.
Others with clear interests in the city also opened up their wallets. Mr. de Blasio received the maximum $4,500 from Chaim Reichman, a manager at Twin America, which runs the controversial double-decker sightseeing buses that have recently faced crackdowns by the City Council. He also got cash from John Curcio, the president of Empire State Bus Corp., which has nearly $100 millions in contracts with the Department of Education, records show.
And perhaps hoping to receive the same top billing they enjoyed in the Bloomberg administration, a number of others involved in the film and television industry, including Douglas Steiner of Steiner Studios, were also generous. Employees at Broadway Stages, who contributed more than $45,000 to Mr. de Blasio's campaign, added another $28,000 to his transition and inauguration efforts.
The mayor also received $1,000 from another celeb, actress Susan Sarandon, who appeared at Mr. de Blasio's side often during the campaign.