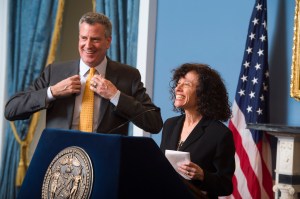 Ever since he won the mayor's race in November, reporters trailing Bill de Blasio have noted–and often complained–about how late his events begin.
But Mr. de Blasio isn't worried.
Asked today if he was concerned about wasting public resources when government staffers were kept idling, Mr. de Blasio dismissed his late arrivals as a non-issue given his other priorities as the city's new mayor.
"We start when we think everything is fully prepared. And there's lots of moving parts and lots of other things that are going on. Sometimes things happen during the time that we had scheduled to start that are priorities that we have to deal with," Mr. de Blasio told Politicker at a news conference announcing his new press team. "Obviously that's been particularly true in the last few days and as we go through a transition."
"So I'm very comfortable with the way we're doing things and I think it will be effective and efficient," he added.
Mr. de Blasio has gained a reputation for arriving anywhere from 30 to 55 minutes late for most events, despite often requesting the media arrive 30 minutes ahead of the scheduled start time. During the transition the mayor even had his own parody Twitter account chronicling his tardiness.
Today, however, Mr. de Blasio was only about 15 minutes late–on par with the timing of his predecessor, former Mayor Michael Bloomberg.