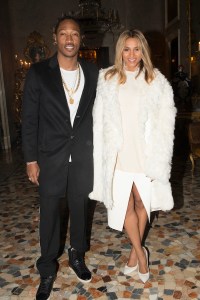 All the action was in L.A., where first the Golden Globes, then the Critics' Choice awards and eventually the Screen Actors Guild awards were doled out. Shindigger, however, jumped over the pond to rejoin the fashion frenzy, which was reaching fever pitch.
In Milano, our habits stayed the same: We guzzled prosecco, applauded the designs of Etro and Z Zegna and ate copious amounts of penne that the models inevitably snubbed. Of course, there were plenty of late nights.
"Everybody just had the most fun. The whole week has been a ball!" designer John Varvatos raved to Shindigger in the wee hours of his after-party. Mr. Varvatos' show had a big finale when KISS, accompanied by the blaring power chords of "Rock and Roll All Nite," graced his runway.
"They were in our spring ad campaign, and they called and said they wanted to support us, so they flew in from LA, got their makeup on and came to the show," he explained. "They're going back in the morning," he added with a hint of worry.
Meanwhile, for its show, Calvin Klein flew in its customary flock of VIPs.
"I couldn't be happier," giggled Elaina Watley, Victor Cruz's longtime girlfriend. "Usually it's cold and gloomy here, but this year the weather is gorgeous." We asked Mr. Cruz what he thought of Italo Zucchelli's efforts this year.
"I loved the colors and materials," he enthused, before the conversation moved on to Milan's unexceptional architecture and this year's Super Bowl. "It's going to be very cold and interesting," he said of the game. "It's great that it's in New York."
"We had a low-key New Year's in Miami, so I'm ready to have a good time," Ms. Watley added. "Tomorrow we're traveling to Paris. We may go to some shows. I'd love to go to Lanvin and Givenchy and Dior Homme."
Later that evening, Mr. Zucchelli invited an intimate group of fashion insiders to Palazzo Crespi on Corso Venezia for a lavish toast to the collection. The palazzo was stunning, replete with marble floors, antique chandeliers and two massive paintings by Canaletto. As Shindigger took in the opulence, we chatted about movies with singer Ciara, who had attended the show with her fiancé, Future.
"Lately I've been into documentaries," she told us. "I watched one about a Siberian tiger and another about Ayrton Senna, the Formula 1 driver."
"Are you seeing these on Netflix?" Shindigger asked.
"Yes!" she yelled. "Future and I were at the Four Seasons in Bora Bora for New Year's, and we just watched cool stuff like that."
An unexpected series of personal events then forced Shindigger to trek to Paris, where, thankfully, the drama was soothed by plenty of Champagne, with late-night affairs at hot spots Silencio and Le Baron and private events hosted by Lacoste and Atelier Versace (the latter attended by Lady Gaga.)
While diversity was scarce on the runway both in Paris and Milan, black celebrities and entertainers, mostly American, were de rigeur at the shows. At Berluti and Dior Homme, Will Smith was all smiles, squeezing next to models Karlie Kloss and Kendrick Lamar. A$AP Rocky also hit up Dior Homme and made appearances at the Y-3 and Raf Simons shows. Shindigger also spotted British rapper Tinie Tempah at Louis Vuitton.
And at Givenchy, where the theme was basketball-inspired street couture, Kanye West, clad in a full-length fox coat, caused a ruckus. (Mr. Cruz and Ms. Watley were present too.) Afterward, Shindigger cautiously approached the music mogul.
"What did you think of the basketball references?" we pressed. Predictably, all we got was a death glance and a gold-plated snarl.
At Berluti's Champagne-cocktail follow-up to his show, legendary photographer and music video director Jean-Baptiste Mondino commented on the runway's lack of color.
"It's a real shame," he said. He expressed excitement, however, about the influence of black stars. "Beyoncé, Rihanna—they are doing everything interesting."
Shindigger ended the chic parade at Hedi Slimane's menswear spectacle for Saint Laurent, which took place at Les Invalides. The scene included Anna Wintour, Azzedine Alaïa and various members of the Pinault family, which owns Kering, the luxury conglomerate.
Is that Juliette Gréco?" a stylist asked, pointing next to Pierre Bergé.
"No! She died years ago," came a sharp but incorrect response. Ms. Gréco, alive and well in her late 80s, was wearing vintage Saint Laurent, as she later told reporters.
Saint Laurent's show referenced British subculture and rock star glamour. The look of the models was pale, rail-thin and Teddy Boy.
"I think they're very cool," exclaimed Salma Hayek, sitting beside her billionaire husband, François-Henri Pinault, CEO of Kering. Few took notice of him, while his wife held the spotlight.
"To me, they aren't even really models; they look more like characters in a film," the Mexican actress offered. "They can almost scare you."
Shindigger changed the subject to Oscar season. "What are you loving?" we wanted to know.
"You want to put me on the spot, huh?" the onetime Best Actress-nominee laughed nervously. "There were many great films this year, but to me, the most interesting, technically and in other ways, was Gravity. It gave me an experience I hadn't had. I really felt like I had been to outer space."
She turned to leave, then placed a hand on Shindigger's shoulder. For us, that was a Gravity moment.
Photo: © 2014 Kevin Tachman/BackstageAT.com