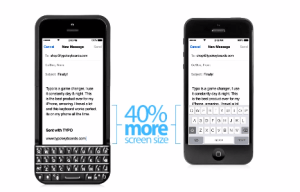 Ryan Seacrest's company hasn't been around for long, but it can already check "lawsuit" on its startup bingo sheet. BlackBerry filed a complaint today against Typo Products for infringing on its patents for the one thing it has going for it: mini-keyboards.
In the suit, where Mr. Seacrest is labeled as a lowly "media personality," the struggling mobile maker takes aim at his creation for "blatant infringement against BlackBerry's iconic keyboard." They're not pleased that Mr. Seacrest's $99, snap-on keyboard for iPhones resembles their universally used plastic keyboard. 
Filed in the Northern District of California, the company doesn't appear to be mad, just disappointed that Typo Products stole its look:
"We are flattered by the desire to graft our keyboard onto other smartphones, but we will not tolerate such activity without fair compensation for using our intellectual property and our technological innovations," said Steve Zipperstein, BlackBerry's General Counsel and Chief Legal Officer.
Typo Products did not immediately respond to comment from The Verge. However, we don't think Mr. Seacrest is shaking in his velour boots since all he needs to do is shake out his skinny jeans to cover any of the suit's legal costs.