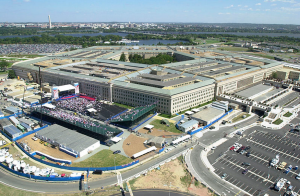 A funny thing happened on the long, slow way to the BlackBerry graveyard this week. 
The mayhem started on Jan. 16, when the U.S. Department of Defense announced it would start using a brand new wireless network, starting Jan. 31. About halfway down the press release, it said this: 
The program currently supports 1,800 unclassified mobile devices including iPad 3 and 4, iPhone 4S and 5, Samsung 10.1 tablets and Samsung 3S, and Motorola RAZR devices with participation from the combatant commands, services, and agencies throughout DOD. The program also supports 80,000 BlackBerry phones.
People flipped out—the Pentagon was placing an order for 80,000 BlackBerry phones? Why, that must be more BlackBerry phones than the company's sold in the past eight years! News sources like Businessweek began reporting that the Pentagon had just "saved" sweet little Canadian BlackBerry from obsolescence, and shares in BlackBerry reportedly went up five percent the day after the announcement was made.
But alas, in the poetic—and also, relevantly, Canadian—words of Nelly Furtado, all good things come to an end. 
Yesterday, the Verge uncovered the sad truth behind the Department of Dense's announcement. They learned that the Pentagon's press release had been somewhat misleading. It wasn't that the agency was buying 80,000 more devices, but that its new wireless network would support the 80,000 BlackBerry devices it already had. Everyone had totally misunderstood the statement.
Here's the statement the Pentagon issued to the Verge:
Absolutely no new orders have been placed for new BB devices. The DISA press release put out Jan. 16 never alluded to any devices being purchased. The 80,000 BBs and 1,800 non-BB devices referenced in the release are legacy systems already in DoD inventories.
BlackBerry's stock reportedly fell three percent yesterday.
Womp womp.
The Department of Defense clarified that the statement didn't mean it would never buy BlackBerry—it just wasn't buying them now. Uh huh. Don't quit your day job, BlackBerry.

But hey BlackBerry, don't look so down! There's still one other Canadian thing that's having a worse week than you.