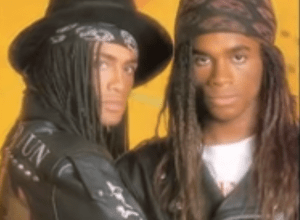 Opera has a new face: Milli Vanilli.
At least, that is the hope of theater director David Levine, who has developed a – to put it lightly – "experimental" opera based on the rise and eventual fall of the early 90's pop duo titled, WOW.
"Everyone knows what happened to these guys. …It's basically an opera already," Mr. Levine, a Fort Greene resident, told DNAinfo.
For those living under a rock for the last twenty years, Milli Vanilli was a late-80s pop phenomenon featuring Fab Morvan and Rob Pilatus. The former heartthrobs, however, were discovered to be nothing more than very attractive lip-synchers were forced to return their Grammy's after their ruse was discovered.
Mr. Levine, musical composer Joe Diebes and poet Christian Hawkey wrote the opera after being inspired by a Vh1's Behind the Music episode based on the German duo. But fans longing for more Milli Vanilli songs in their lives might not want to pre-order their tickets just yet.
Instead, audiences will be listening not to a reconfigured version of  Richard Wagner's  "Die Meistersinger von Nurnberg" which, ironically, is an opera about composing a perfect pop song.
"The musicians get fed their parts just in time and it's never the same piece twice," Mr. Levine said. "They play it as they receive it which leaves it prone to all kinds of glitchy repetition. "
Funny, because we seemed to remember another "glitchy repetition" of a pre-recorded voice that ended a certain music duo's career.
But don't worry. Thanks to Mr. Levine and company, we still get to see some Milli Vanilli look-a-likes. That's worth two unearned Grammy's if you ask us.
You can catch the opera at BRIC House, a performing arts and media space at 647 Fulton St. at 8pm on Jan. 23  through 25 and Jan.30 through Feb. 1.
[youtube=http://www.youtube.com/watch?v=ILpAJHYwFqQ&w=420&h=315]