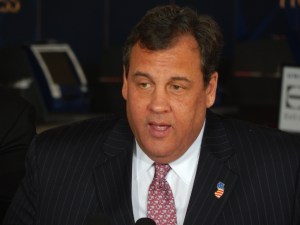 Politically ascendant from the earliest days of his governorship, Chris Christie this morning found himself in an unfamiliar position: on his heels.
Today the dominant narrative around Christie, who crushed his Democratic opponent last year, was not the afterglow of his 60-38% victory, eagerness around an Ellis Island inaugural and affirmative talk about a 2016 presidential run, but questions about his political lifespan and his administration's use of power.
"I never understood it as fear," Christie told PolitickerNJ on May 13th of last year, when asked of his psychological impact on the other party's campaign mindset as he continued to fold in cross-the-aisle allies and damage the morale of his Democratic opponent.
Another Democratic mayor who had just endorsed him and praised the governor's response to Hurricane Sandy stood close at hand.
"I see it as respect," Christie explained. "As U.S. Attorney, I wouldn't tolerate corruption and they knew I would put them in jail if they broke the law. I wasn't going to change."
Now standing in the swirling scandal, the governor this evening swore he wouldn't tolerate inappropriate behavior from his own staff amid more questions.
According to documents first reported by the Bergen Record and obtained by PolitickerNJ, a September 2013 email from his deputy chief to a Port Authority underling directed political retribution at the mayor of Fort Lee, a Democrat who refused to endorse the governor.
"Time for some traffic problems in Fort Lee" Deputy Chief of Staff Bridget Anne Kelly wrote in August, just weeks before a controversial lane closure.
This afternoon, PolitickerNJ calls to longtime friends in the party were met with an admixture of shock and dismay.
"Can't talk now," gargled a source, a Republican.
Christie's triumphant 2013 campaign manager, Bill Stepien, yesterday forwarded by party members as the leading contender to chair the state GOP on the strength of his campaign managing, today surfaced as a player in the mess.
Appointed last year to help man the Republican Governor's Association (RGA), which Christie chairs, Stepien wrote in an email, "The mayor is an idiot," referring to the Fort Lee chief executive when the mayor complained about the impact of the lane closure.
Christie tried to distance himself from the entire episode and late in the afternoon said his staff "misled" him.
Never eager to cross the governor publicly, GOP allies this time grunted early disappointment.
Mayor Norman Schmelz, Republican Mayor of Bergenfield, in politically volatile Bergen, home this year to a much anticipated county executive's contest, issued a statement of condemnation.
"It is too early to ascertain what exactly transpired when entrance lanes were closed to the George Washington Bridge on September 9, 2013 from Fort Lee, NJ," Schmelz said. "Unfortunately, if the media reports remain accurate, it appears that an enormous abuse of power has been perpetrated by those in government. I strongly condemn this abuse of power by these people, and any abuse of power in government, whether it be by a Republican, Democrat, or Independent. Bergenfield, Bergen County and the State of New Jersey has seen enough violation of the public trust by those in government, and it saddens me to see it once again.
"I hope and pray, for the good of us all, that these media reports are inaccurate, and mistaken, and that we have not seen another misuse of power by government officials," the mayor added. "However, if these reports are deemed to be verified, I hope that everyone involved will be held accountable for violating the public trust of all the people of New Jersey."
The governor's political mentor, former Gov. Tom Kean, called the emails "disturbing."
"This is the connection that no one believed," Kean told The Wall Street Journal. "What could they have been thinking?"
In cover-up mode for much of Christie's tenure, Democrats seized on the moment to slap in some pointed questions.
"Where's the oversight from the commissioners?" said state Sen. Paul Sarlo (D-36), wondering about the presence of the Port Authority of New York and New Jersey. "Where were those who were entrusted with protecting the taxpayers of Bergen County? did (Bergen Port Authority Commissioner) Pat Schober know? Where was our commissioner?"
The comments from Kean in particular caused a stir among political insiders who saw today's link to the administration as the explosive second part of the governor's post-election vulnerability.
Last year, two days after winning re-election, Christie expressed his interest in getting the former governor's son out as Senate Minority Leader.
Allied with state Sen. Kevin O'Toole (R-40), front office helpmates tried to engineer a coup to dump the younger Kean.
It didn't work; and the same Republican caucus members doubtful of Christie's campaign maneuvers during the general election – which all but eliminated his presence in battleground districts dominated by his Democratic friends – now expressed silence in the early hours of the governor's crisis.
The national media descended on New Jersey, not to express wonder at the anamoly of a GOP governor wielding power in a blue state.
It was unusual territory and crisis time for one who had weathered Hurricane Sandy to national acclaim, and for one who appeared to have mastered the state's complicated political game.