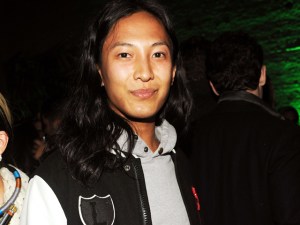 He'll be having no sleep 'till Brooklyn.
Fashionista fits have been breaking since Alexander Wang announced the location of his February 8 fashion show — Brooklyn (Sigh).  Mr. Wang, who usually dazzles runway fans with urban designs at Pier 94, will show his Fall '14 collection at the Duggal Greenhouse at the Brooklyn Navy Yard.  
Admirers are already preparing for their trips to hell and back, having to travel all over New York to make it to the shows of designers Michael Kors, Vera Wang, and Diane Von Furstenberg, who all recently gave Lincoln Center a pass. His will be the first time the borough has hosted a NYFW show. 
No doubt questions such as " What is a Brooklyn?" and "Do I need my passport?"  have been raised.  The designer, however, is excited to get off the island, telling Women's Wear Daily, "We found this incredible space, and it corresponds very well to this season's creative concept."
The collection is one of the most anticipated of NYFW, so it's expected that everyone will suck it up and cross the East River for the event.