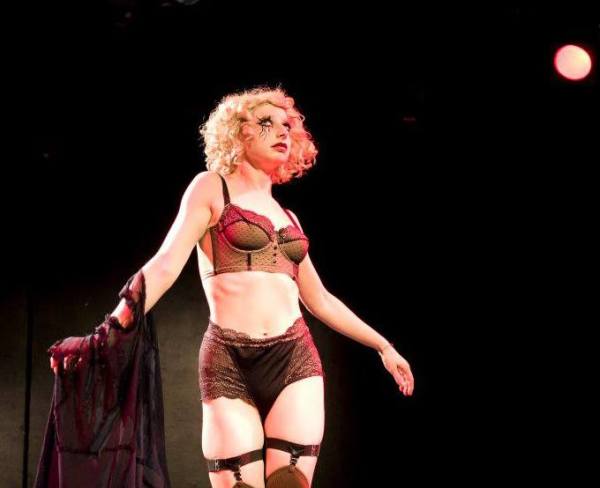 The young redhead to the right of the stage had been collecting things all night: apples, dresses, baskets, capes, coattails and a tome of H.P. Lovecraft. She looked on from the dark margins of the room in her black glittery panties, studying not the burlesque performer's body—like everyone else in attendance—but rather the items that were stripped from it. This particular performance, entitled Scary Stories to Tell in the Nude, was at the Parkside Lounge, and it was only halfway through the show that we learned the redhead's name: Celia Foxglove. 
That's a stage name, of course. Ms. Foxglove is what is known as a kitten, or "stage kitten," a term that has developed in burlesque dressing rooms to describe the assistants who pick up the main performers' discarded clothing and props.
After the show, the Transom caught up with Magdalena Fox, 32, the producer of Scary Stories and a graduate of the New York School of Burlesque. She told us that kittens are often aspiring performers, although it's becoming less rare for those with performing experience to kitten between gigs. 
The NYC burlesque scene has flourished over the last half decade, according to Lefty Lucy, an instructor at the New York School of Burlesque who teaches a course on stage kittening, and that has created a more competitive landscape. "There are more people working in burlesque now, and there are only so many roles," she noted. 
Earning a base rate of $25 per night—and/or a cut of the tips for the evening—kittens are a long way from pocketing the hundreds of dollars an in-demand performer can take home. For extra cash, some kittens will "go-go" for tips or sell merchandise. But while the typical kitten is in her early 20s, with aspirations to break into burlesque either as a performer or a producer, they're not all looking to make a career out of it.
"One of the awesome things about burlesque is it's everything from a hobby to a profession," Ms. Lucy said, adding that, as the prevalence of burlesque schools, classes and guidebooks grows, the various roles, such as kitten, are becoming "more defined and respected."
That wasn't always the case. "When I started, there were no stage kittens, though there were stage managers and 'pickup artists,' such as the Poubelle twins of the Velvet Hammer," said Jo Weldon, the head mistress of the New York School of Burlesque and a performer of 15 years. "There was no process to prepare us to get onstage in the 1990s, early 2000s. We just got onstage."
Nevertheless, the role of a kitten has become a burlesque staple in recent years. "Kittens are as much a part of the performance as anyone else," Ms. Lucy explained. 
Misty Love, a 28-year-old Clinton Hill resident and kitten of two years, says "there is little time for snobbery" when it comes to the relationship between kittens and performers. 
"Their needs come first, and their acts take priority. I am definitely seen as a stage assistant, so I get treated as someone who is there to help out, which I am happy to do," she said, emphasizing that she is almost never made to feel inferior. "Every once in a while, I'll run in to a performer who is a bit of a diva." 
As for the redheaded Ms. Foxglove, she is a 26-year-old Queens resident who has been "kittening" ever since seeing a burlesque show in Coney Island three years ago. Ultimately, though, she envisions herself producing shows rather than performing. "As a plus-size girl, there are few places I can walk around like this and get paid for it," she said, gesturing to her generous cleavage.