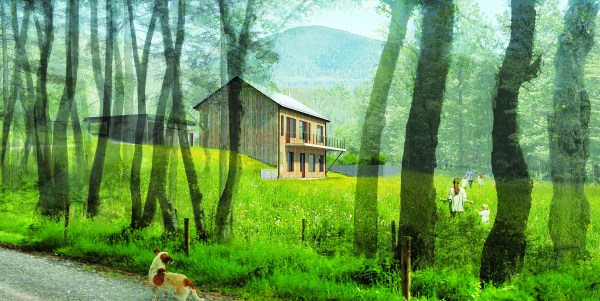 In the nomenclature of American popular culture, the subdivision often acts as a kind of emblem of soullessness—a synecdoche for the vapid, homogenous worst of postwar middle-class life. The term conjures images of cheaply made houses that have been designed to appear expensive, with fat colonnades and grand chandeliers suspended in windows over entryways.
Here, mid-level executives park mid-range luxury leases in smooth cement driveways and vegetate in great rooms where the air conditioning never goes off. And when baby boomers advise children, apropos of one such development or another, that "all this used to be farmland," it is not, generally, in the spirit of tribute to advances in human ingenuity.
Most who make this observation have never done any farming, though, and their wistfulness seems merely to imagine a simpler time—to recall some more authentic, vanished world. And yet, properly executed—some believe—the subdivision model those boomers find so irksome just might offer certain counterintuitive remedies.
Drew Lang, whose firm Lang Architecture is based in the Financial District, has lately been at work, in the foothills of the Catskill Mountains, on a planned community with which he hopes to answer failings in design that he has identified elsewhere. "Too many residential developments have falsely created landscapes," he said recently. "They lack oneness with place."
Set on a densely forested 131-acre tract just southwest of the Ashokan Reservoir, Hudson Woods will be composed of 26 dwellings occupying lots of 3 to 12 acres. (The land, which Mr. Lang and his investors acquired for $590,000, is part of the town of Kerhonkson and had already been subdivided.) Intended as vacation properties, the homes at their most modest will have three bedrooms, two bathrooms and a garage and cost $655,000; each will be built to order, and buyers may choose from some 40 upgrades, including a fourth bedroom module, third floor and guest house.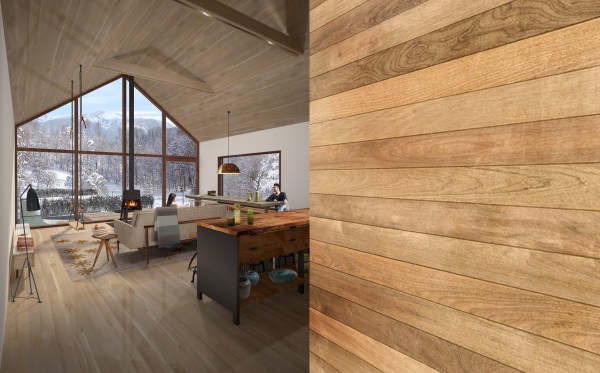 Each house will have a wall of glass in the great room and cedar siding and decking, lending them the aspect of miniature, modern ski chalets. Hudson Woods has adopted the current ecological zeitgeist: Its homes are to be built of sustainable and, where possible, locally sourced materials. A master gardener and a sawyer have been engaged. And a curated selection of furniture, produced by local artisans, will be suggested to buyers.
On-site excavators will mine granite schist and shale for roads and driveways, and owners may furnish landscapes with a small or large vegetable garden, a grove of 10 or 30 fruit trees and a greenhouse. On request, the master gardener will ship fruits and vegetables to New York City homes. Beekeeping services will be available a la carte.
The enclave "does have some semi-utopian characteristics," said Mr. Lang. "I won't deny that. But we want to draw the line at a healthy place where people can maintain their individuality. We don't want to script people's experience in too heavy-handed a manner."
When we met in his modest office, Mr. Lang was dressed in New Balance sneakers, unflashy designer jeans and a checked button-down shirt. Earnest and soft-spoken, he appeared to be a man with discerning aesthetic judgment and the good sense not to broadcast it too loudly.
Mr. Lang, whose clean, quietly modern designs have given shape to projects including an ophthalmology center in Mississippi, brownstone and loft interiors in New York and a number of buildings in New Orleans, has never before acted as a contractor and developer.
One challenge of Hudson Woods is that it "must evolve organically," he said. "I think people might buy here because their friends buy. I imagine kids wandering freely through this place and being with one another. Not just the kids, though, really everyone."
Early interest in Hudson Woods has come from New York City families, some of whom express common antipathy toward the preening hubbub of the Hamptons. Many belong to the so-called creative class, a trend that conforms to the area's real estate climate. Jeff Serouya, a broker who has operated in nearby Stone Ridge since 2002, told us that his clientele skews artsy and gay and draws from the advertising and fashion industries. 
"I'm seeing more and more people from Brooklyn," Mr. Serouya said. "And I mean New Brooklyn—not the Brooklyn I grew up in. They're coming up, beards and all." (The beards have been kind to Mr. Serouya: 2013 was his most profitable year to date in the real estate business—he worked previously on Wall Street—and he anticipates that his clients will warm swiftly to Hudson Woods.)
James Sanderson, creative director and principal at a boutique design and branding firm, has helped Mr. Lang translate the development's amenities into a saleable narrative.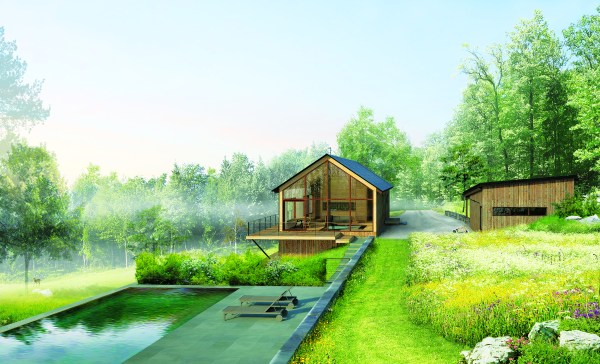 Its ethos appeals, he told us, to people in the market for "authentic" and "meaningful" experiences. "We're bombarded with technology all the time," he said. "Everyone's staring at screens, and I think people are looking for things that have a little history to them. People's hands will have been on the materials that go into these houses. These builders and craftsmen are putting their heart and soul into this stuff. [People] want to get into the land and feel like they're out in nature." 
That the area surrounding Hudson Woods has a native working and middle class is also attractive to Mr. Lang's target buyers, a fact which injects a somewhat troubling human element into the market's fetish for the "authentic." Together, Mr. Sanderson said, these ingredients "create an experience that feels genuine."
In the past, the threat of vacation-centric development—with its looming influx of big-city leisure-seekers—has raised hackles among those who weather all seasons in the Catskills. But Anne Pyburn Craig, a longtime resident of Ulster County and a reporter for the Blue Stone Press, told us that Mr. Lang's patronage of local businesses, as well as his respectful approach to the community, has minimized friction with neighbors. "This area is also in desperate need of an economic boost," she said. Recent years have seen the closure of several local factories, including Hydro Aluminum and Imperial Schrade. 
"The only big employer left is a prison," Ms. Craig continued. "Kerhonkson is a sweet, little town. It has tried to rejuvenate itself a few times without a great deal of success. For a few houses, it's not like everyone's going to get up and run around with their hair on fire. There's room for that there."
To reach Hudson Woods, you exit I-87 near New Paltz and take a series of narrow country roads that call to mind a pleasant downhill ski trail of intermediate difficulty—an effect heightened in winter, when 100 miles north of Manhattan, snow often frosts the ground.
Along the route, you will see tractors, vegetable stands, cows and silos. You will observe tumbledown barns whose owners seem to be using them as storage facilities for other, older barns that have fallen apart completely. In Ulster County, the pastoral persists.
Jackson Hahne, who is the construction manager at Hudson Woods, overseeing a team of perhaps a dozen subcontractors and associated minions, met us on a recent afternoon at the bottom of the Hudson Woods access road. Snowmelt dripped from trees, and the road, yet unfinished with local gravel, was muddy and rutted. 
On lot seven stood the frame of the show house, where two men worked to install a cedar overhang below the roof. We stood inside with Mr. Hahne on raw wood flooring and looked through the spaces that would be windows. He gestured to trees in the near distance and suggested that some might be trimmed to improve the view. He could not say whether a mountain that appears in renderings of Hudson Woods actually exists within sight of the development—or anywhere else.
We walked to several of the six other lots that had begun to be prepared for construction. Mr. Hahne explained Mr. Lang's approach to thinning the forest selectively, rather than clear-cutting—as more traditional developers might do—in order to preserve the site's natural character, as well as to ensure that old-growth oaks, which another man on site called "trophy trees," were not cut down.
On each lot, Mr. Lang had told us, he would create open "meadows," in order to alleviate what might otherwise be the "oppressive darkness" of the forest and turn the site into "the glorious place that it wants to be." The result, Mr. Hahne said, would be to provide "the feeling" of being in the woods.
On one lot, we met Satya Scanlon, a native of nearby Olivebridge who with his father runs the company responsible for excavation at Hudson Woods. (To replace dense glades with idyllic meadows, heavy equipment and blasting implements often prove useful.) Like his father, Mr. Scanlon is also a cabinet builder and carpenter. "Our main thing now, though," he said, "is moving the earth and shaping it up."
On another lot, in what might have been mistaken for a parody of masculine bravado, Broc Eaton was operating a chainsaw with a cigarette in his mouth, while two subordinates fed branches into a chipper. "If there's one thing I like to do, it's talk about trees," Mr. Eaton told us. "I've been cutting 11 or 12 years, and I started climbing in 2005."
A sawyer and arborist, Mr. Eaton, who is 30, grew up on the very road where Hudson Woods will rise. Like Mr. Scanlon, he is burly and friendly and bearded; tobacco flecks his teeth, which he showed with a ready smile.
"My grandfather was a logger," Mr. Eaton reflected. "He and his partner would go into the woods with just a handsaw and a cart and some horses. Can you imagine that?" Mr. Hahne shook his head, marveling. Life, he felt, was difficult enough as it was, even with modern conveniences.