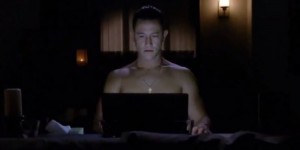 The Daily Beast sent one brave reporter to this year's AVN Awards, the porn industry's Oscars (or at least its Golden Globes).
All in all, the experience sounded pretty depressing — tipsy porn stars whispering pervy nothings in excitable fans' ears, shriveling attendance numbers, horrible Holocaust jokes.
But what stuck out to us was one industry insider's assertion that porn stars as we know them are a thing of the past. Cam girls — the women with the only jobs lonelier than mommy bloggers and night watchmen — are apparently usurping their foremothers as the biggest stars of Internet porn.
"The girls and fans are moving to cams," says Luke Mason, who runs IAFD.com, porn's answer to IMDB. Adding insult to injury, he asserts, "I only watch DVD porn now for my database." What a burden that must be.
You might recall the New York Times's fascinating deep dive on cam girls from last September. These women dress up like film stars, labor over hair and makeup, and set up movie lights in their homes before getting to work in front of their webcams.
They perform various one-woman sex acts, streaming live to observers who remotely ask them to do things, then watch and compensate them with tips. Some performers pull in up to $8,000 per month. And with a live cam, the risk of piracy is pretty nonexistent. This means the women are able to profit directly from their work without worrying that it will pop up on another website for free.
If cam models truly are supplanting traditional porn stars, it could be a good thing for sex workers. Although the risks inherent in all sex work, like exploitation and trafficking, will still obviously be present, at least cam girls seem to be in charge of what kinds of sex acts they'll perform. They're probably less at risk of being coerced or exploited by a director or costar, for the most part. Also, a solo performer doesn't carry the danger of contracting sexually transmitted diseases.
With the advent of wearable technology like Google Glass, there's only potential for personalized webcam sex to keep growing. Porn as we know it could be rendered obsolete as virtual sex enthusiasts continue to build relationships with the paid performers they can now interact with in real time.
But imagine the social minefields that will result from learning that your partner or teenaged child is no longer just looking at pictures and videos of porn, but constantly communicating with and paying a favorite webcam star. Yikes. We have to sort out the moral parameters for looking at porn and sexting while in a relationship before we can even begin to tackle that issue. 
But hey, at least such awkward situations could yield some entertaining Joseph Gordon-Levitt and Spike Jonze movie sequels.