Last October marked the launch of Cameo, an app that lets you edit your crappy, amateur smartphone footage into high-def, professional-quality videos, and share them with your friends and followers. The app has reported big success in its first three months of life, proving that maybe there's actually a market for videos that aren't just shaky thirty-second shots of cats freaking out over printers.
In the past three months, Cameo has seen 650,000 downloads, and the videos created by its users have garnered 2 million views. The app was named to Apple's "Best of 2013" list, for video, and it also boasts Miley Cyrus's band as celebrity users, which is obviously the most important gauge of any product's staying power.
"We have been very successful," Cameo cofounder Matt Rosenberg told Betabeat. "We're literally amazed and in shock with how well Cameo's done, and how well people have acclimated to the products. It's utterly, insanely exciting."
And more excitement's on the way: Cameo just took its first steps onto to the interweb by launching a brand new web profiles feature. Now, users can catalogue their videos on one cleanly-designed profile page on Cameo's website—kind of like a YouTube channel, or Vine's new web presence.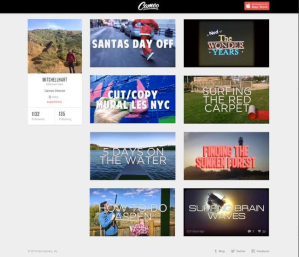 "Users have [a] beautiful landing page where they can see all the videos they've created at once," Mr. Rosenberg said. "It plays to the strengths of our platform. It just lets you create this very beautiful, very compelling portfolio." 
Mr. Rosenberg said this was "just the beginning" of Cameo's developments, though he didn't want to ruin the surprise for us about what exactly those developments were. 
We'd like it to have something to do with high-def sexting, but we won't get our hopes up.