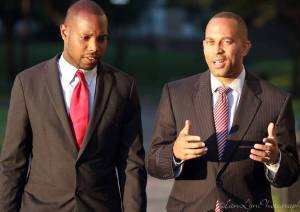 Nonprofit founder Chris Banks has lost two races to now-Councilwoman Inez Barron, but is hoping he has better luck this time around against her husband.
Mr. Banks said he plans to challenge Charles Barron, the avowedly radical former East New York councilman, for the open State Assembly seat vacated by Ms. Barron after she won Mr. Barron's City Council race last year.
"We believe sending Charles to the Assembly sends the wrong message," Mr. Banks told Politicker. "We can finally repudiate the Barrons like we did with Hakeem Jeffries when he won this district."
Mr. Banks, who has run in the past with support from rising-star Congressman Hakeem Jeffries, hopes that Mr. Jeffries' thorough defeat of Mr. Barron in a 2012 congressional race means the working-class, heavily African-American district will be ready to elect a lawmaker closer to the Democratic Party's mainstream. Mr. Banks ran against then-Assemblywoman Barron in 2012 as well as in the 2013 council race.
Mr. Barron, who identifies as a Black Panther, is one of the most outspoken politicians in the city, especially on issues connected to communities of color. He launched his assembly campaign with a video labeling former President Thomas Jefferson a "slave-holding pedophile" and has vowed to hold Speaker Shelly Silver and Gov. Andrew Cuomo accountable when he arrives in Albany.
This race, however, could be moot if Mr. Cuomo calls a special election, leaving it up to the local Democratic Party to select a nominee. The Barrons, insiders say, control the county committee seats necessary to ensure Mr. Barron nets the Democratic nomination. In a district where Republicans are almost nonexistent, that nomination is usually tantamount to winning the election. 
But Mr. Banks said he hopes that doesn't come to pass.
"I'm hoping the governor stands strong and doesn't call a special election and he allows a regular primary to determine who the next assemblyman is," he said.

Mr. Banks out-raised Ms. Barron when he ran for her husband's vacated council seat last year, but Ms. Barron still managed to win by almost 20 points–suggesting the Barron brand remains relatively strong in the communities they serve. 
Update (Jan. 15, 9:34 a.m.): Reached for comment, Mr. Barron criticized Mr. Banks' preference for the seat to stay vacant until it can be filled via the normally-scheduled election, rather than through a special election.
"All candidates for this seat should not be selfish," Mr. Barron said, pointing to the plethora of vacant seats around the state. "They should be leaders and call on the governor to call on a special election and have people seated, whether it's to your advantage or not, because it's a serious violation of our rights to have a million people not represented."
Additional reporting by Colin Campbell.