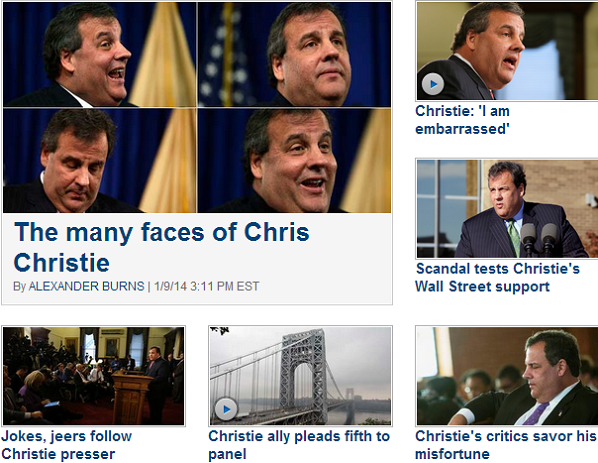 Let's be honest: there was really only one story today. And it was Chris Christie.
As Mr. Christie's 11 a.m. press conference stretched into the afternoon, it was almost impossible to find any news that wasn't about the New Jersey Governor's apology for "Bridge-gate," the scandal that erupted yesterday when email evidence emerged that showed that Mr. Christie's top aides had ordered lanes of the George Washington Bridge closed as political retribution. 
But news cycles are fast. By later in the afternoon, the Twitter dust had settled, the live-blogs had stopped updating and virtually every publication had edited their version of the story.
Even Andy Borowitz wrote something.
But did different publications with widely varying styles have different approached to the Day 1 story? Not really. Most blanketed homepages with the news, but actually used relatively tame headlines for the national spot news story.
The difference in the immediate coverage is subtle. Unlike many stories that dominate news coverage, this one was about substance rather than style. The style will no doubt come later, in second and third day stories, not to mention tomorrow's tabloid covers.
There will most likely be lasting implications for Mr. Christie's expected 2016 presidential bid. And even more dependably, in the immediate future, there will be plenty of pundits weighing in on every nuance of the case
But for now, let's take a look at some same-day headlines:
"Christie Fires Aide in Bridge Scandal as U.S. Opens Inquiry" (The New York Times)

"Christie fires staffer over Bridgegate, but says 'I'm responsible'" (New York Post)

"New Jersey Gov. Chris Christie 'embarrassed and humiliated' by bridge closure scandal" (The Daily News)

"Chris Christie Apologizes for Bridge Scandal, Insists He Had No Idea" (New York)

"Chris Christie's Passive Apology, Annotated" (New York)

"Christie: Sorry, I'm Just Really Bad at Knowing What My People Do" (Gawker)

"Christie On Woman Who Died After Slow EMS Response: 'It's Awful….I Can't Reverse Time'" (BuzzFeed)

"Chris Christie's Traffic Problems" (NewYorker.com)

"Christie Urges Media to Focus on Weight" (Andy Borowitz/NewYorker.com)

"Chris Christie Apologizes For Bridge Scandal, Insists He's 'Not

A Bully'" (Huffington Post)

"The Many Faces of Chris Christie" (Politico)

"Christie: 'I'm Embarassed'" (Politico)

"Jokes, Jeers Follow Chris Christie Presser" (Politico)