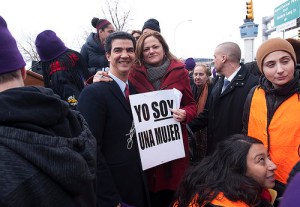 Councilman Ydanis Rodriguez, the new chair of the council's transportation committee, is hoping to bring more Citi Bikes and ferries to the five boroughs. But first he wants to override a mayoral veto.
Of course, it's not Mayor Bill de Blasio's veto Mr. Rodriguez will attempt to overturn tomorrow, but rather Michael Bloomberg's. At the end of last year, the outgoing mayor moved to block a bill that would force the NYPD to report information concerning vehicle collisions in which the driver left the scene.
In a letter to the council last year, Mr. Bloomberg said the bill imposed an "unprecedented, unwarranted, and dangerous burden" on the NYPD–a sentiment Mr. Rodriguez rejected, his spokesman told Politicker today.
"A lot of data is not made public. The council doesn't have a good idea of the number of traffic deaths that have taken place, how they're being investigated, how the NYPD enforces these things," explained the spokesman, Russell Murphy. "The bill allows the council to see a description of investigations … There's still stuff that's kept in the dark."
Mr. Murphy, who said the councilman supports the bill because it will bring more transparency to how the NYPD handles traffic fatalities, said there are more than enough votes in the new council to override the Bloomberg veto.
Mr. Rodriguez, a close ally of the new de Blasio-approved speaker, Melissa Mark-Viverito, appears likely to be take up many of Mr. de Blasio's transportation causes in the council. The northern Manhattan lawmaker is a loud backer of Mr. de Blasio's "Vision Zero" program, an initiative to drastically reduce traffic fatalities. Like Mr. de Blasio, some transportation advocates have wondered if campaign contributions will cloud judgement–Mr. Rodriguez, one prominent transportation blog alleged, may be too close to the livery cab industry.
Where Mr. Rodriguez differs from the new mayor's administration, however, is on ticketing jaywalkers. The councilman doesn't think pedestrians should be slapped with fines for crossing the street. Mr. de Blasio has defended local NYPD crackdowns at the precinct-level.
"Penalizing victims is not a way to go about supporting pedestrian safety," said Mr. Murphy, who predicted Mr. Rodriguez would carry on many of the causes of the previous transportation chair, Bronx Councilman Jimmy Vacca. "Education is the way to go."
With pedestrian safety as a top priority, Mr. Rodriguez said he hopes to increase the "lead time" pedestrians have when entering a crosswalk–the seconds pedestrians are given at certain intersections to cross before cars begin to drive through. Mr. Rodriguez also supports the creation of more "slow zones," a Bloomberg-era innovation that imposes 20 mph speed limits in certain parts of the city, usually near schools.
"He's looking to increase the scope of slow zones," Mr. Murphy said. "Particularly in schools, churches, senior centers and residential areas."
Mr. Rodriguez further hopes to boost transportation options for his own Washington Heights and Inwood-based Manhattan district and in the outer boroughs, where options are often scarce. He's already planning a push to bring ferry service to Upper Manhattan near Dyckman Street that would whisk Inwood residents downtown. And he would like to see the city's bike-share program expanded to his own district and parts of Queens and the Bronx that have been untouched by Citi Bikes. Other initiatives will include making subways more efficient and handicap-accessible and looking for ways to improve rapid and select bus service.
"Increasing transportation options in the city will be a real priority," Mr. Murphy said.