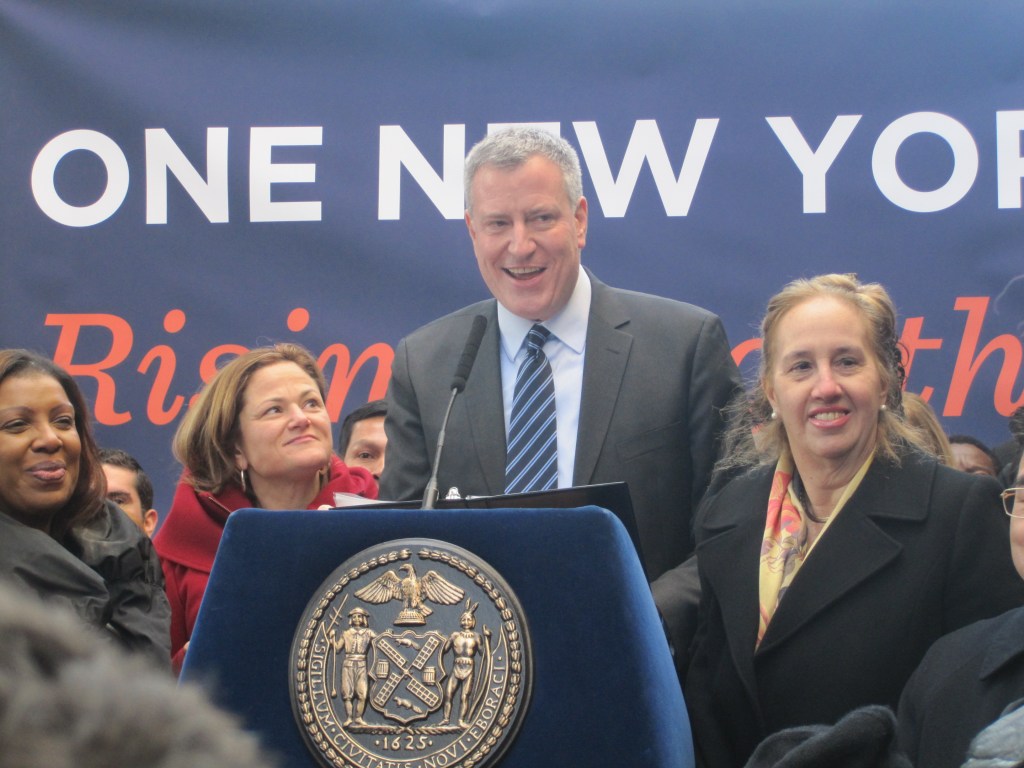 Mayor Bill de Blasio and Council Speaker Melissa Mark-Viverito rolled out their first legislative push this afternoon, announcing a bill that will extend mandatory paid sick leave coverage to an additional half-million New Yorkers later this year.
The effort resurrects the original version of a bill that was bottled up for three years by former Council Speaker Christine Quinn, and would force businesses with five or more employees to provide their workers five paid days of leave each year, beginning April 1.
During his campaign, Mr. de Blasio had repeatedly criticized Ms. Quinn–then a contender in the race who was worried about the potential impact on small businesses in a still fragile economy–for dragging her feet on the bill and then passing a watered-down version that was set to apply to businesses with 20 or more workers in April. But, as Public Advocate Tish James noted today, "Politics matter and elections have consequences."
"We've talked a lot about the tale of two cities. Our goal is to create one city where everyone can rise together, and this is one of the steps we have to take to make that possible," said Mr. de Blasio, speaking on crowded block in Bushwick, Brooklyn, at an outdoor event that felt more like a campaign rally than a press conference. "In a troubled economy, people need more paid sick leave even more to protect their families."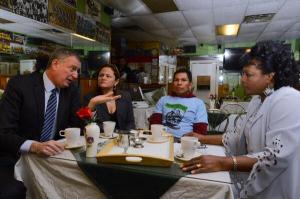 Touting the change as a "dramatic expansion" of current law, Mr. de Blasio went on to address critics who nonetheless worry the bill will scale back hiring or encourage companies to hire part-time workers instead of full-time ones.
"I think that small business owners … will quickly recognize that this going to be a good thing for the business, a good thing for the customers, a good thing for the people that work in the business, a good thing for our society," he said.
The pair also dismissed criticism from some council members who were caught off guard when they found out only late last night about today's announcement, arguing that it was no surprise to anyone that both intended to pass the bill.
"There was no deal struck. This is a conversation that has been going on for many years with regards to bringing back the expansion of this bill to its original form," Ms. Mark-Viverito told Politicker, rejecting the premise of a backroom deal. "It will be introduced by the council. It will be vetted at the council committee hearings. It will get a hearing. There will be a debate. There will be dialogue. So so it's [an] extremely transparent process."
"Look, this is again the fourth year of a conversation. I just want to emphasize. I really hope all my colleagues in the media will note that fact. A lot of us have been engaged in this discussion with business owners over one, two, three four years," argued Mr. de Blasio, counting the numbers out on fingers.
Additionally, though today's event was rather chummy–it featured constant jokes between Mr. de Blasio, Ms. Mark-Viverito, Ms. James and a fourth citywide official, Comptroller Scott Stringer–Ms. Mark-Viverito cautioned that this just happened to be an issue they'd worked together on for a long time.
"While there will be plenty of times where Mayor de Blasio and I disagree on an issue," she said, "this is one where we have agreed for a long, long time. This is the kind of progressive change that can happen when the mayor and the city council share the same priorities and values."