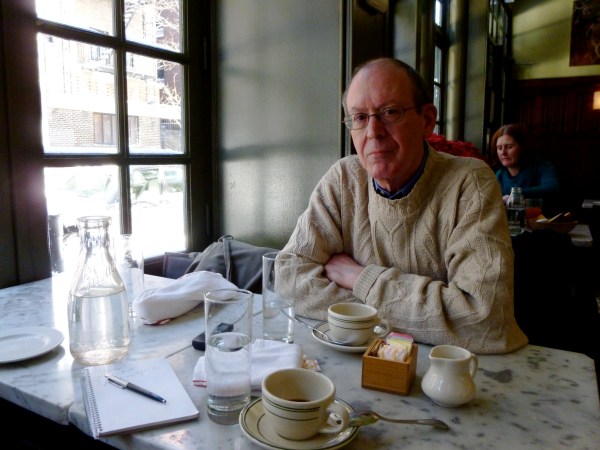 Last week, Clyde Haberman was let go from The New York Times. For the second time in his career.
The first was way back in 1966, when Mr. Haberman was the paper's campus correspondent at City College of New York. One day, bored by typing out commencement awards, he decided to make up his own, inserting a reference to Jake Barnes, the impotent character in Hemingway's The Sun Also Rises. The draconian editor A.M. Rosenthal was not amused and fired the young reporter for deliberately publishing a falsehood.
"I've always lived in fear that in my obituary, if I ever deserve one, that's going to be the lead sentence: 'Clyde Haberman, who got fired …,'" Mr. Haberman, 68, said last week over lunch. 
Of course, those who have read his stuff through the decades are aware that Mr. Haberman has more than atoned for his sin, if we may even call it that. He was hired back at the Times in 1977, worked for nearly 13 years as a foreign correspondent in Rome, Tokyo and Jerusalem and, for about a decade and a half, wrote the popular "NYC" column, which he began when he returned to the city in the mid '90s.
Although Mr. Haberman voluntarily took a buyout from the Times two Decembers ago, he continued to work for the paper as a contract writer. He published a regular Web column called "The Day," a nod to the fictional broadsheet in one of Mr. Haberman's favorite movies, Deadline U.S.A., starring Humphrey Bogart as the shrewd, fast-talking head editor constantly fielding phone calls as he glides from one room to the next.
His final column for the paper, "Breaking Bread," which ended last week, featured interviews with New York notables over a meal.
Mr. Haberman's contract was terminated due to a 5 percent cut, ending an illustrious, 37-year-long run at the paper. Though one could argue that it was the blogosphere that neutered columns like "Bread," which took a softer tack rather than a gotcha approach. 
Since the news got out, appreciations and interview requests from devoted readers have been pouring in.
"I feel a little bit like Tom Sawyer stumbling upon his own funeral and eavesdropping and hearing everybody boo-hoo-hooing over him," Mr. Haberman, who was raised in the Bronx and speaks with a New Yawk accent, said. "So it's sort of nice in that respect, with the added advantage that I'm not dead yet."
We met at Hundred Acres, the rustic-chic Soho restaurant a short walk from the WNYC studios on Varick Street, where, shortly before our meal, Mr. Haberman had done an interview with radio host Brian Lehrer, the subject of the final "Breaking Bread" column. Mr. Haberman had a burger—hold the cheese and onions—with fries, which he generously shared. His interviewer ordered the country pâté sandwich. ("I was tempted by that, too," Mr. Haberman said.) They both had a bottle of beer and finished with coffee.
So, we wondered, what's next? Mr. Haberman, who moved on to the New York Post after he left the Times in the 1960s, where he worked alongside Pete Hamill and Nora Ephron, said he is unsure what his next act will be, admitting that the termination of his contract came unexpectedly.
He will continue to freelance for the paper from time to time, he said, and may continue to fill in as a guest-host on the online NY1 show The New York Times Close Up.
He doesn't hold any grudges. "As the lines goes in The Godfather," he said, "this is strictly business, not personal."
Despite an unclear future, Mr. Haberman seemed to be in high spirits at lunch. The sharp wit, dry humor and common sense wisdom he has brought to his writing through the years were on full display as he reflected on his career in newspapers. At one point, the conversation progressed toward a lofty question.
Did Mr. Haberman think the Web had upended the notion of the columnist?
"I think it has," he mused, taking a bite from his burger, which was a little more well done than he'd have liked. "Opinion seems to be valued more than reporting. That's why I do emphasize that columns should be reported and they should be based on facts."
Mr. Haberman's were. He made his opinions known in his "NYC" column, of course—nowhere was that more clear than in his distaste for Michael Bloomberg's push to extend term limits through the City Council. Still, Mr. Haberman emphasized that, opinions aside, newspaper columnists need to show up, to get out into the field, "to go out and smell it."
"Things change, things don't go the way you think they're going to go. People aren't what you always think they're going to be, and something intrudes," he said. "You know, a bomb goes off in the restaurant and suddenly, there goes your interview," he added, taking a surprisingly dark turn. "I hope it doesn't, by the way."
How had he felt when, in 2011, the Times pulled the plug on "NYC" after 16 years?
"I can't pretend I was happy about it," Mr. Haberman said. "But to steal a line that Ed Koch sometimes used in a different context, if God had wanted me to have a lifetime job, he would have made me a federal judge."
As a foreign correspondent, Mr. Haberman, who counts the legendary Times reporter Sydney Schanberg as an influence, was something of a Zelig-like force on the international scene, covering such historic world events as the overthrow of Ferdinand Marcos in the Phillipines, communism's demise in Eastern Europe, the Persian Gulf War and the Oslo Accords in Israel.
How did he adapt to new countries? Was it a challenge?
"I did it by chipping away a bit at a time," he said. "I realized I could do these big, sweeping pieces from the beginning—here's where Japan is!—and I didn't. I began with smaller stories until I learned more about the place and then felt more comfortable making broad societal judgments."
Mr. Haberman said he was often asked to do those sweeping pieces as a correspondent in Israel, which made him uncomfortable.
"But," he explained, tongue slightly in cheek, "I've always felt, in journalism, that sometimes the air of authority is better than actual authority. If you sound like you know what you're talking about, you probably can get away with it for a little while."
Mr. Haberman probably isn't giving himself enough credit. His authority, it seems, is more actual than airy. Despite that one slip-up early in his career, readers have no doubt relied on his reporting and informed opinions to make sense of the world.
That's why Mr. Haberman got into the business in the first place, he said.
"Why do smart people go into a line of work that doesn't pay very well when they are no doubt as smart as the folks who are going off to Goldman Sachs?" Mr. Haberman said. "Because there's a desire to see the world, figuratively and literally, and to some degree, maybe a bit of a missionary spirit, if you will. Maybe you can make a difference by casting light on a situation that you feel is wrong."
We were curious: How had his journalistic career, particularly his time in foreign lands, affected Mr. Haberman's family life? Mr. Haberman has two children from his first marriage, Maggie, a reporter at Politico, and Zach, an editor at the Daily News, and one from his current marriage, Emma, who works for an NGO in the city.
"There was no question that to be a foreign correspondent created a burden for the family," Mr. Haberman said, taking a sip from his coffee. He added that his children "schlepped out to me sometimes three times a year."
But everything's alright? "They went into the business," he reasoned, "so how awful could it have been?"
"To be the Times guy in Israel is one of the hardest jobs in journalism, I would argue," Mr. Haberman, who was raised as an Orthodox Jew, added. "It's a very, very difficult and in many ways wearying assignment, which has to inevitably have a spillover on the family, because it can't be easy living with somebody who feels he's under the gun all the time."
When Mr. Haberman returned home after more than a decade abroad, he said, it took him a year to stop assuming that every phone call was for him. "Because the truth is," he said, "wherever I was, no matter whose house I was in for dinner or whatever, the phone would ring, and it was invariably not for the person whose house it was but for me."
That sounds like Humphrey Bogart's character in Deadline U.S.A., we said.
"Yeah, God, I love that movie," Mr. Haberman said, adding that the last scene, in which the immigrant mother of the murdered girl goes to the newspaper instead of the police to supply info on the movie's villainous mobster, makes him choke up every time he sees it.
"That's what we're supposed to be!" Mr. Haberman said, enlivened by the thought of newspaper as watchdog. "There have been a lot of newspaper movies," he added, going on to list a few of his favorites—Ace in the Hole, The Paper, His Girl Friday, The Front Page …
He paused for a moment and then settled on an idea. "I mean, nobody, as far as I can tell, has done a great movie about a blog."