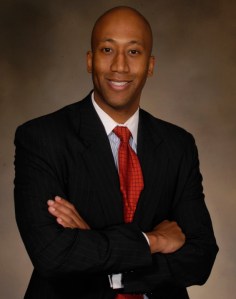 If Clyde Vanel fails to defeat indicted State Senator Malcolm Smith, it won't be for lack of start-up cash.
According to the latest campaign finance filings, Mr. Vanel, a business attorney, loaned himself a sizable $100,000 to launch his campaign against Mr. Smith, a southeastern Queens Democrat charged last year in a bribery scheme to land himself on the GOP mayoral ballot.
The money, Mr. Vanel said this morning, would eventually be paid back by himself or campaign contributions. In the meantime, he hopes to raise $250,000 from donors across the state.
"The $100,000 is to get us started," Mr. Vanel, a former candidate for the State Assembly and City Council, told Politicker. "There's a lot of stuff to spend on. Right now, as we speak, my website still can't collect money online. A lot of stuff has to happen in the background. I didn't want this campaign to lack resources."
There are several items in particular his campaign war chest can pay for, Mr. Vanel said. 
"Online is a major piece. I have to get certain software and programs," he continued. "There's voter information software I have to get. The infrastructure of the campaign needs to be built."
Mr. Vanel claimed he was also actively working to net the endorsements of both the Senate Democrats and the Queens Democratic Party. Both have wanted to unseat Mr. Smith since he decided to caucus with the coalition of breakaway Democrats governing the Senate with Republicans. After Mr. Smith was indicted, the breakaway conference booted Mr. Smith and he currently conferences with no one–making him an even bigger potential target in this year's Democratic primary.
Mr. Smith, however, won't be Mr. Vanel's only opposition. Fellow attorney Munir Avery, who boasts his own ties to the Democratic establishment, is running as well. Mr. Avery reported raising almost $26,000, spending a little more than $8,000 and donating $2,000 himself to his campaign.
Though Mr. Smith did not file for this period and could struggle to fund-raise without establishment support, two challengers could divide an anti-Smith vote and benefit the incumbent, observers say. 
Reached for comment, Mr. Smith, who denies all wrongdoing, said it was too early for campaign politics.
"We are focused on the budget and making sure southeast Queens receives its adequate share of resources for schools and job creation and I am focused on governing," he said in a statement. "The time for campaigning is later."