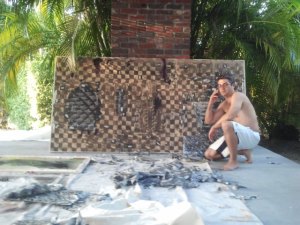 The contemporary art galleries just keep coming!
The latest businessperson to throw his hat into the ring is art collector and real estate investor Robert M. Blumenthal, who's planning to open up shop in a 1,000-square-foot third-floor space at 1045 Madison Avenue, between East 79th and 80th Streets, which puts him right next door to Barbour and about a block from Skarstedt, Acquavella and Michael Bloomberg's house.
Why the Upper East Side? "There are very few people showing cutting-edge contemporary," Mr. Blumenthal told us by phone yesterday. "There's no one really doing that except for Bill Powers," who operates his Half Gallery above his wife, Cynthia Rowley, on East 78th Street.
First up, opening on Feb. 12, is a group show by artist J. Patrick Walsh III, who operates under the moniker JPW3, with work by strong, young artists Lucy Dodd, Ryan Foerster, Sam Moyer, Gavin Kenyon and more.
Mr. Blumenthal will taking a project-based approach, rather than representing artists, he said. Also in the works: group shows organized from painter Daniel Heidkamp (whom the new dealer has collected in depth) and the gentlemen who run the Know More Games gallery in Carroll Gardens.
It sounds like a handsome space. "The building was built around the turn of the century, and there's a lot of nice original architectural details," Mr. Blumenthal said. "It's very charming, there's a fireplace … and all these old, nailed-down, original hardwood floors."
There is, of course, a rich history of collectors moving into the art-dealing game over the years, and Mr. Blumenthal joins other recent collector-turned-dealers, like (Observer contributor) Adam Lindemann, who opened up his Venus Over Manhattan gallery nearby in 2012, and Marc Strauss, who opted for Grand Street on the Lower East Side when he went into business the same year.
Mr. Blumenthal, who comes from a commercial real estate family, said he was inspired to join the dealer ranks by other family members who were involved in art, like a grandmother who was an artist and dealer in Florida in the 1980s and the private museums run by the collectors of Miami and Miami Beach, where he grew up and has a house.
He explained, "Our very good family friend was Marty Margulies, and I love going to his warehouse"—the home of his sprawling contemporary art collection. "I was always blown away by these things."