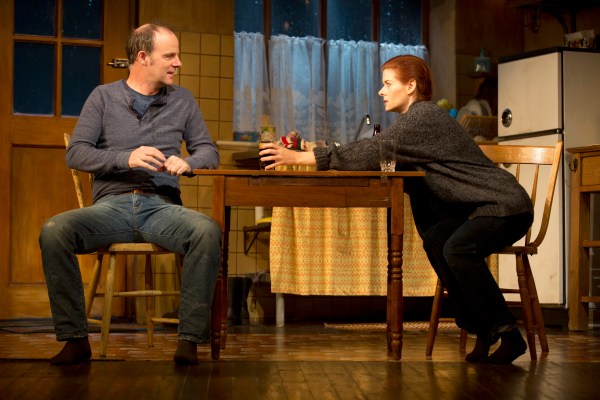 Languorous and peculiar, John Patrick Shanley's Outside Mullingar means to be a poetic discourse on the subject of unrequited love, but despite two lovely performances by co-stars Debra Messing and Brian F. O'Byrne, the new play by the author of Doubt: A Parable wafts and stumbles its way in and out of so many talky emotional confrontations that it comes off as a mulligan stew of domestic drama, generational politics, sexual confusion, family feuds and largely unintelligible Irish accents. The Manhattan Theatre Club production that just opened at the Samuel J. Friedman Theatre on Broadway is mostly dull and only occasionally entertaining.
Set in the dismal Irish midlands, it centers on two neighboring families with grown children approaching middle age. Painfully shy, they've never married, but they waste a lot of their valuable time onstage together filibustering about it. Forty-two-year-old Anthony Reilly (Brian F. O'Byrne) and 36-year-old Rosemary Muldoon (Debra Messing) have known each other their whole lives. They seemed destined for each other as children, but that ship sailed a long time ago. Anthony doesn't know what he wants to do with his life as long as he does it miles away, and Rosemary spends her idle days and lonely nights pining for him to make a move in her direction that never happens. Then there's the problem of where they would live if it does. Both of them stand to inherit family farms. But their families have been locked in a bitter property war as long as anyone in the vicinity of Mullingar can remember (and longer than anyone in the audience wants to).  
The first half of this 90-minute play without intermission is about Rosemary's mother, Aoife (Dearbhla Molloy), and Anthony's father, Tony (Peter Maloney). On a rare visit to the Reilly house, the old lady confesses her emphysema and pacemaker have just about done her in and worries about what will become of Rosemary after she dies. Tony is a cantankerous old goat who hasn't made up his mind to leave his farm to his disappointing wimp of an ungrateful son. Best to dispose of them fast, which Mr. Shanley does offstage, without a backward glance. Alone, lost and irritatingly lackadaisical, Anthony and empty-hearted Rosemary need each other more than ever but lack the skill to admit it. Marriage is the only way to save their adjoining land for posterity, but he's not interested, and she can't do it alone. For laughs, Mr. Shanley's hokey-pokey script makes Rosemary say, in a moment of candor, "Go back to the cigarettes. Cancer is easier to cure than your moods." Well, at least they're talking. 
In the second half of the play, Rosemary sets the stage to trap Anthony herself. This ain't easy: He's a virgin. But that's not all. He thinks he's a honeybee. The part of the audience that was still awake seemed delighted by that bit of blarney. A few people moaned. The mixed reaction pretty much describes the overall reception of this odd curiosity of a play. The passive personalities Mr. Shanley has created here are diametrically opposed to the kind of hot-blooded Irish protagonists we've come to expect in plays by Martin McDonagh and Conor McPherson or in the films of John Ford. Controlled desires and repressed sexual passions are not cherished Irish trademarks. Neither are Irish stereotypes with thick brogues who are teetotalers. The Reilly bloke and the Muldoon colleen rarely drink anything stronger than Earl Grey tea.
Outside Mullingar is so flatly directed by the usually reliable Doug Hughes, whose many triumphs include Mr. Shanley's Doubt, that the play never picks up its pace or develops its premise with any logic or momentum. Even the great set designer John Lee Beatty fumbles visually. When Anthony visits Rosemary for the first time (hard to believe, since they've lived next door to each other for 40 years), the Muldoon farm looks exactly like the Reilly house. All they did was change the stoves around.  
But let it be said: The play benefits enormously from its two central performances. Flame-haired Debra Messing, best known for her work on Will & Grace, is no Maureen O'Hara, but she makes a formidable Broadway debut. Her Irish brogue is thick as congealed porridge, while Brian F. O'Byrne, who played the priest in Doubt and really is Irish, is, conversely, totally coherent. No matter. Their chemistry is palpable.