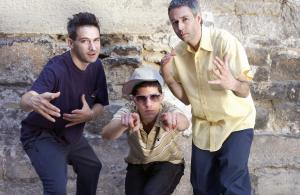 Why don't we just give the Beastie Boys their own borough?
At the very least, fans are asking the city to give the group their own street corner in the Lower East Side. Rabid fan LeRoy McCarthy launched an online petition to name the intersection of Rivington and Ludlow after the iconic musicians. The street corner was featured on the cover of the group's 1989 album Paul's Boutique.
"New York is the birthplace of hip-hop and the Beastie Boys are a very integral part of hip-hop and music from New York City. So I think it's important to recognize and give recognition to hip hop 40 years on in New York City," said Mr. McCarthy, whose petition has collected over 1,400 signatures, to NY1.
With around 50 bars that serve liquor, 35 of which stay open until 4 a.m., the area around the street corner is synonymous with  drunken belligerence and empty bottles. The three-block stretch, currently called  "Hell Square," could definitely use a new nickname. 
This would be the city's second big tribute to The Beastie Boys, who rose to fame as one of the first white hip-hop groups in the late 80's.  Brooklyn's Palmetto Playground was renamed Adam Yauch Park last May in honor of the group's front man Adam "MCA" Yauch after he died from cancer one year earlier.
Tonight, Community Board 3's Transit Committee will vote on changing Hell's Square to Beastie Boys Square. If passed, the proposal will go to a vote for the rest of the board and then the City Council.  Finally, it will be up to Mayor Bill de Blasio to make it official.  
We're liking this trend, hopefully Wu-Tang Way will be next.