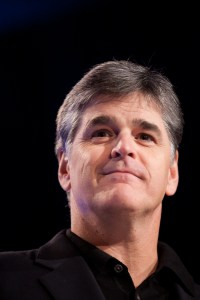 Fox News host Sean Hannity is threatening to leave New York after controversial comments by Gov. Andrew Cuomo that have spread across the conservative media landscape.
During a radio interview last week, Mr. Cuomo said "extreme conservatives, who are right-to-life, pro-assault weapon, anti-gay … have no place in the state of New York." Reacting to the ensuing controversy, Mr. Cuomo's staff have insisted the comments were taken out of context and that he was talking specifically about statewide elections in Democratic-leaning New York. They also published a full transcript of the remarks.
But that hasn't stopped talking heads like Mr. Hannity, who said the comments had motivated him to flee the Empire State for Florida or Texas.
"I'm not welcome in my own home state," he said on his radio show yesterday, according to video posted on Breitbart News. "And that's fine. Gov. Cuomo, I'm going to leave and I'm taking all of my money with me–every single, solitary penny. And by the way governor, because I work here, there's a whole bunch of people that work for me and benefit because I do two shows. And I guess maybe some of them will be out of work, governor. I'm sure you'll take care of them."
"This reflects liberalism," Mr. Hannity added, citing controversial gaffes and statements made by Democrats over the years. "When liberals speak their handlers keep their fingers crossed they won't tell the truth on how they really feel. So Obama talks about bitter people clinging to their guns and religion … Think back when Jesse Jackson said about New York 'hymietown.'"
He wasn't the only one. In addition to numerous New York Republicans and the New York Post, Fox News' Megyn Kelly devoted an entire segment to the controversy last night asking, "Is it Gov. Cuomo or is it King Cuomo?" and plans to address it again tonight. And TheBlaze TV's Glenn Beck railed against Mr. Cuomo on his own program yesterday.
"If you're a moderate conservative, does that mean you're okay with killing half the babies?" asked Mr. Beck. "Is there a number, Gov. Cuomo?"
View Mr. Beck's comments below:
[youtube=http://www.youtube.com/watch?v=AKlv1007kB4&w=560&h=315]