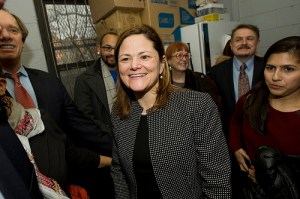 Melissa Mark-Viverito and Dan Garodnick are the last two standing in a bitter backroom clash for City Council speaker. But the loser of the race won't walk away needing cash. 
Both Ms. Mark-Viverito and Mr. Garodnick boast extensive outside income unrelated to their plum City Council posts, according to city conflict of interest reports.
Mr. Garodnick, for instance, quietly maintains an extensive stock portfolio investing in companies that have drawn their share of controversy, including several pharmaceutical and energy giants. Ms. Mark-Viverito, meanwhile, retains lucrative ownership stakes in housing and land in her native Puerto Rico and received tax breaks on her East Harlem home.
While the reports, dating from 2012, are missing key details–addresses of Ms. Mark-Viverito's properties are blotted out, for example–they are a window into the ways both Manhattan council members have been able to maximize their incomes beyond their $112,500 base salaries. All of the income is legal and not in violation of any ethics laws.
Mr. Garodnick, a former securities litigator, has a portfolio of more than two dozen stocks, earning him an income of anywhere from $5,000 to $43,999.99 from interest and dividends, according to the report, which only provides ranges, not specific values.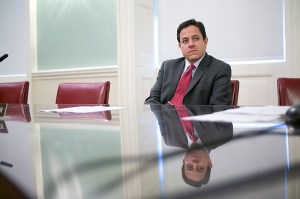 The value of Mr. Garodnick's stocks, worth up to more than a million dollars, is formidable. The councilman owns Microsoft stock that was worth between $100,000 and about $250,000 at the time of the report. Many other stocks ranged in market value from $5,000 to $43,999.99
Mr. Garodnick, through a spokesman, declined to comment on specific investments or priorities, but said the purpose of the investments was to maximize gains and minimize risk.
"Dan has a portfolio that is diverse so as to minimize risk, and the approximate value can be gleaned from the report," the spokesman, David Kimball-Stanley, said.
Still, some of the stocks raise eyebrows. Mr. Garodnick has been a critic of hydraulic fracturing, a controversial process for extracting natural gas from the earth that environmentalists argue pollutes groundwater. In testimony to the Department of Environmental Protection, Mr. Garodnick contended that hydrofracking, "raises too many significant questions" to be allowed to proceed "at this time." At the same time, the East Side lawmaker owned stock in EnCana, a natural gas corporation that drew scrutiny for its hydrofracking practices. The stock, like much of the others Mr. Garodnick holds, is worth up to about $44,000.
Mr. Garodnick also holds stock of similar value in Barrick Gold Corp., a mammoth gold producer, which was implicated in alleged gang rapes and other human rights violations in a Human Rights Watch report. And he holds up to approximatley $44,000 in stocks from General Electric, which drew fire recently for its efforts to skirt paying American taxes. (Despite recording a worldwide profit in 2010 of $14.2 billion, with $5.1 billion coming from the United States, General Electric's American tax bill was zero, according to the New York Times.)
The controversies surrounding Ms. Mark-Viverito's financial holdings, meanwhile, are housing-related. The Daily News reported Friday that the councilwoman–whose net worth tops $1 million–pays no interest on a $70,400 mortgage she obtained from the city so she could purchase her principal residence, a three-story townhome. The discount was scored when she was 29 year old and qualified for a program that allowed low- and moderate-income residents to buy in the city homes. Since then, she has paid reduced property taxes. In a story today, the paper charged Ms. Mark-Viverito hasn't reported rent she collected from a building she owns. 
Ms. Mark-Viverito also owns a stake in four properties in her home territory of Puerto Rico, including two rental condos and a home worth more than $500,000. She also owns about 17 percent of seven acres of vacant land in the Puerto Rican municipality of Ceiba–worth as much as $250,000, according to the report.
But a source close to Ms. Mark-Viverito downplayed the properties, which stand in contrast to her image as a progressive fighter for the downtrodden against the 1 percent.
"Any interest Melissa has in any Puerto Rican properties was inherited from her dad after his death," said the source, who added that the lawmaker's mother manages the properties. "Melissa has minority ownership in four properties in Puerto Rico, which she owns jointly with her mother and siblings. One is the family home, in which her mother resides."
"Of the four properties, only one has been rented during the time she's been partial owner, and such rental revenue goes toward all administrative expenses, which include, among other, property taxes, insurance, maintenance and repairs," the source continued.
Ms. Mark-Viverito declined to comment. The 51 council members will vote on a new speaker Wednesday.