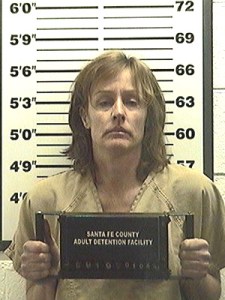 Cormac McCarthy's ex-wife, the self-identified and somewhat unfortunately named Jennifer McCarthy (no relation), was arrested on charges of aggravated assault in New Mexico. Ms. McCarthy was arguing with her boyfriend about aliens when the argument escalated and she allegedly "pointed a silver handgun at her boyfriend…a weapon she retrieved from her vagina." Ain't that America, folks?
The Smoking Gun reports, citing court documents, "McCarthy went into her bedroom and later emerged 'wearing lingerie and a silver handgun in her vagina.' She then proceeded to 'have inner course [sic] with the gun.'" During this, uh, particular exchange, Ms. McCarthy reportedly asked her boyfriend, "Who is crazy, you or me?"
You can look at Ms. McCarthy's art work here. (Kudos to The Cut for digging up the site.) Cormac McCarthy divorced his wife in 2006. I can't imagine why.