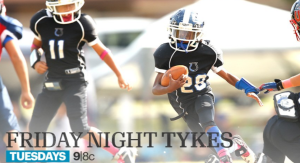 Brooklyn Councilman Steve Levin, taken aback by the Esquire Network's new Friday Night Tykes documentary series chronicling the intensity of youth football, is backing legislation to regulate the sport in the five boroughs.
Days before the Super Bowl officially kicks off across the Hudson, Mr. Levin's office announced today that he'll be introducing a bill mandating the presence of a registered doctor at every league game in the city, "including, but not limited to, the Public High School League (PSAL), Catholic High School League, and Pop Warner leagues."
"Football teaches teamwork and sportsmanship, builds character, and keeps our children active, but safety has to be prioritized before winning games. 'Friday Night Tykes' cannot be the norm in youth football," Mr. Levin said in a statement, directly referencing the documentary, which features adults screaming at children to keep playing through pain from injuries.
The legislation comes amid growing concerns over the long-term health effects of the game on players.
"NFL players like Peyton Manning and Russell Wilson – starting quarterbacks in the Super Bowl – have to undergo extensive testing by medical professionals to return to play after suffering a concussion, yet we do not require anything close to that for our children," he added. "This legislation will take the health and well-being of our children out of the hands of coaches and into those of medical professionals. For the love of the game, we must act now to protect our children and make youth football safer."
Mr. Levin's bill, which would apply to children through high school, features a bevy of additional rules, according to his office:
Any football game played on New York City property (DOE, DPR) must have a doctor on premises throughout the whole game. The game cannot begin if a physician is not present.
Any full contact practice conducted on New York City property must have either an athletic trainer or a doctor on premises throughout the whole practice. The practice cannot begin if the physician or athletic trainer is not present.
The decision to administer the Standardized Assessment of Concussion (SAC) to any student-athlete shall rest entirely within the purview of the doctor (in the case of a game) or athletic trainer or doctor (in the case of a full contact practice) and shall not be subject to interference by any coach, athletic director or other party- including family members.  A coach or athletic director can however, request that the on-site doctor or athletic trainer administer the SAC to a student-athlete that they suspect of having suffered a concussion.
All NYC Parks Department permit applications for either a full contact practice or a game must affirm that there will be either an athletic trainer or a doctor on premises (doctor for a game, athletic trainer or doctor for full contact practice) throughout the course of said event.
The attendant athletic trainer or doctor must confirm and document their presence at the event and list any and all injuries to students suffered during the game/practice, if any standardized assessment of concussion tests were administered and their results, and if the student-athlete was allowed back onto the field of play and if so why such decision was made. These forms must be submitted to the permitting agency and remain on file.
All youth football leagues must submit to the Department of Health and Mental Hygiene and/or the Department of Education a full reporting of concussions and other serious injuries sustained throughout the football season.
Mr. Levin's statement also features a supportive quote from Deanna Errico, the president of the New York State Athletic Trainers' Association.
"The New York State Athletic Trainers' Association is excited about the Youth Football Safety Act," said Ms. Errico. "We would be happy to see this plan passed in New York City and spread across the state to provide safer environments for all sports."