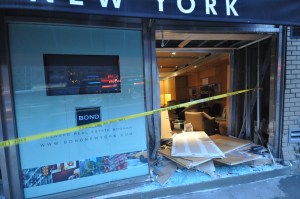 Agents at the BOND real estate brokerage, which bills itself as New York's largest independently-owned shop, were likely a bit miffed about having to work on Martin Luther King Day. (Then again, with so many people out of the office, the conditions might have been ripe to move some merchandise.) Either way, for those on duty this afternoon at the firm's Upper East Side office on Second Avenue, things took a decided turn for the worse when a car plowed through their front window, and into the reception area.

The precise circumstances of the accident remain mysterious to The Observer, but though the storefront and lobby were destroyed, the office remained open, as BOND representatives pressed on stoically to service clients.
"We are extremely thankful and relieved that no one– including the driver– was injured," BOND co-founder Noah Freedman said in a statement. "Like all New Yorkers we have endured far worse and look forward to rebuilding our office better than it was before."
Curious as to the specifics of Mr. Freedman's history of hardship , we tried to catch up with him to pin down the details. Alas, he proved unavailable. We are sure that like all New Yorkers, Mr. Freedman is very busy.