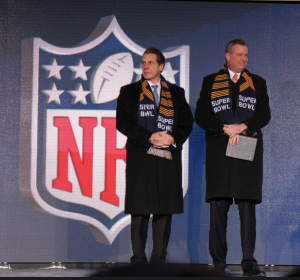 Governor Andrew Cuomo and Mayor Bill de Blasio put their pre-K feud on hold to kick off another battle earlier this evening
The two–clad in matching scarves–paid a visit to Times Square to inaugurate the city's Super Bowl Boulevard, a closed-off, 13-block stretch of Broadway dedicated to big game activities like a giant toboggan slide.
"I want to thank the NFL for the guts and vision to play the Super Bowl in the Northeast," Mr. de Blasio told the gathered crowd of New Yorkers and visiting football fans. He and the governor were joined on stage by NFL Commissioner Roger Goodell and the team owners of the New York Jets and Giants.
Mr. Cuomo spoke briefly to welcome the Super Bowl tourists and to encourage them to stay after the big game. "You are always welcome back," he told members of the crowd, many of whom sported Broncos or Seahawks hats.
He and Mayor de Blasio appeared on good terms, despite their ongoing political tensions. Politicker would have suggested the pair settle their differences via toboggan race if there had been an opportunity for questions.