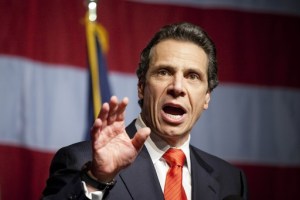 Gov. Andrew Cuomo today backed a push to raise the minimum age at which teens can be tried and charged as adults—one of a host of initiatives rolled out in the last State of the State address of his first term.
"Our juvenile justice laws are outdated," said the governor in his speech, pointing to rules that allow 16- and 17-year-olds to be tried and charged as adults in New York.
Only one other state in the nation has the same rules, Mr. Cuomo said: North Carolina.
"It's not right. It's not fair. We must raise the age," he said, proposing a new commission on youth public safety and justice to push through the changes in the next year.
Mr. Cuomo also touted efforts to decrease the state's prison population, which has been reduced by 5,500 prison beds during his tenure.
"We are reducing the madness of an incarceration society and ending a system of unnecessary human and financial waste," he said in some of his strongest words of his speech. "The bad news is there is a revolving door where 40 percent of the people who are released from prison wind up back in prison."
To help reduce that number, he proposed a "reentry council" that will look at new ways to reduce recidivism through job training and other programs.