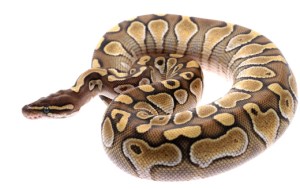 Talk about a ssstrange find! 
An (unlucky, we would say) auto body shop worker in Gowanus, Brooklyn, spotted a moving duffle bag in a garbage by the Finest Towing and Autobody containing four snakes, one of which was a 6-foot long boa constrictor. 
It is unclear as to how the snakes ended up near the canal, but a worker at the shop told The Observer that the owner was bit by one of the snakes and quickly hung up. 
"The owner got bit by the snake," a concerned voice said over the phone. "I don't want to comment anymore." 
The worker who spotted the bag on Monday afternoon contacted officials believing there was a baby inside.
"They were moving in the garbage," Anthony Finest, owner of Finest Towing and Autobody on Baltic Street, told DNAinfo. "We didn't know if it was a baby or what." Three 3-foot pythons were also found inside plastic grocery bags in the duffel bag. 
The NYPD's Emergency Unit locked the snakes in cages and brought them to Animal Care and Control, the organization in charge of dealing with wild animals within the city's limits. A spokeswoman for the agency said the New Hope program will place the snakes in appropriate homes.