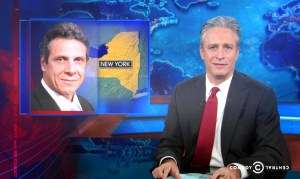 Gov. Andrew Cuomo was a punchline on The Daily Show last night.
The late-night faux-news show dedicated it opening segment to the controversy over Mr. Cuomo's recent comments that "extreme conservatives, who are right-to-life, pro-assault weapon, anti-gay … have no place in the state of New York," teasing both the way Mr. Cuomo talks and the substance of his remarks.
"Actually what happened was Cuomo was advising New York's Republican party to clarify its identity to stay viable in this, a left-leaning state," explained host Jon Stewart. "But I guess it accidentally came out as, 'Bleep, you bleep, bleep, bleep, bleep.' Not his best moment, especially because, as we all know, minority groups in New York can be quite sensitive."
Mr. Cuomo has insisted that he was talking specifically about the viability of conservative Republican candidates in the Democratic state–but that hasn't stopped conservative pundits from making the comments headline news, including Fox News host Sean Hannity, who has threatened to leave the state.
Or, as Mr. Stewart put it, Mr. Hannity took "the grievance train to victim town."
The segment ended with a video urging Mr. Hannity to stay, featuring celebrities like Nathan Lane and Tim Gunn, as well as complete with a musical number from the cast of Jersey Boys.
View the full segment below:
[youtube http://www.youtube.com/watch?v=Bl8wpxKMOfo&w=420&h=315]