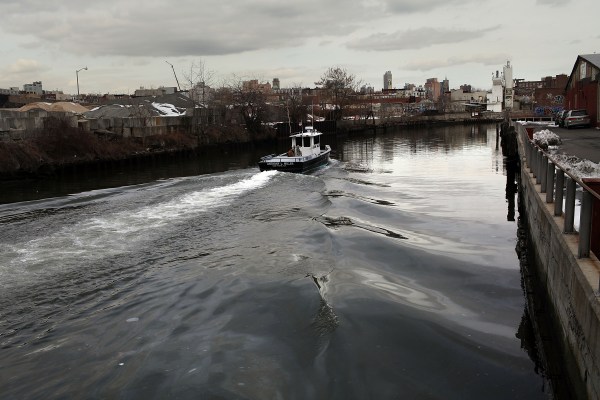 And you thought your morning commute was grimy.
John D'Aquino, 38, plunged into one of the nation's dirtiest waterways on Sunday. Armed with a professional hazmat suit and a helmet cam, Mr. D'Aquino, scuba dove to the bottom of the filthy Gowanus Canal to provide live footage of the murky world beneath the water.
"Most people don't have that perspective," Mr. D'Aquino told The Daily News of his quest to document New York's least-loved waterway. "Most people drive by this canal and think 'what's in this?' Well we can show you."
Mr. D'Aquino's dive was part of the weekend's TEDxGowanus event, a series of lectures and presentations on a range of topics, from supporting local Gowanus artists, to improving the neighborhood's ecosystem. The dive gave viewers an up-close tour of the polluted canal — and hopefully some motivation to increase clean-up efforts.
While a trip into the oily waters might intimidate most New Yorkers, Mr. D'Aquino was unfazed by the plunge. A member of the research diving group Coney Island River Rats, Mr. D'Aquino has been diving and exploring the city's waterways since 2001. Mr. D'Aquino's fellow River Rats assisted him by hosting a TED Talk on diving while Mr. D'Aquino was beneath the surface. Together, the group is raising awareness of the waters that surround New Yorkers every day.
"Whatever I see, other people will see," Mr. D'Aquino said before taking the dive.