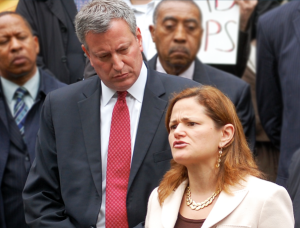 Mayor Bill de Blasio and City Council Speaker Melissa Mark-Viverito are teaming up tomorrow to announce a new, expanded paid sick leave plan that will cover far more workers than the version passed last year, according to multiple sources familiar with the deal.
The announcement will take place tomorrow afternoon at Esmeralda's Restaurant in Bushwick, Brooklyn. The owner of the restaurant, Esmeralda Valencia, has been a longtime member of the paid sick leave campaign's coalition.
While the specifics were not immediately clear Thursday night, the terms are expected to be similar to the original version of the sick leave bill, which applied to companies with five or more employees, but was watered down under former Speaker Christine Quinn. Under the current version of the law, which is set to kick in on April 1, businesses with 20 or more employees are required to provide workers with at least five paid sick days off each year.
The announcement will be the first joint effort between Mr. de Blasio and the new speaker, whose election he helped broker.
"It's a win for each of them," one source told Politicker. "It reinforces their progressive cred with labor and the left in a big way and it shows the value of the deal they orchestrated for the speaker's race."
Still, very few council members were consulted or even aware of the backroom deal until they received calls late Thursday night, leading to warnings from some quarters that the pair "need to be careful with this top-down approach to governance."
A spokesman for Ms. Mark-Viverito declined to comment. Mr. de Blasio's office did not immediately respond to a request for comment.